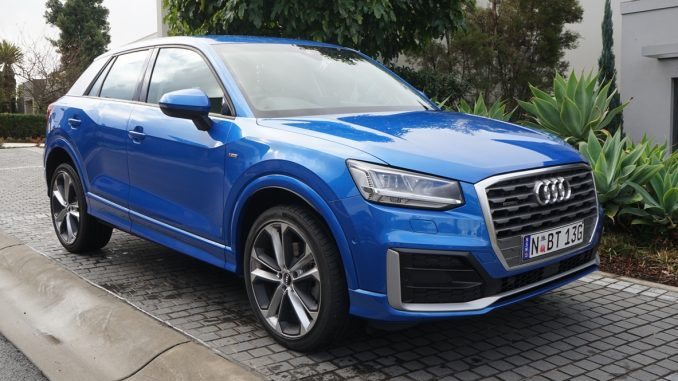 Another week another small SUV. We cast our eye over the Audi Q2 Quattro Sport.
This seems to be the fashion at the moment with every second test car sitting in this category.
At $48,500 the Q2 is floating around the price range of some large SUVs, so let's find out if that extra coin is worth for that luxury brand.
Exterior
Immediately the first thing you notice is the (in this case) the grey C-pillar panel that sticks out like a sore thumbs from the blue body work.
Fortunately this is only an option which seems to me to be a weird choice really.
Overall the Audi Q2 a squarer shape that many of its counterparts with their sloping roof lines and protuberances.
It possesses a strong, wide stance with a few grey inserts and is otherwise a standard affair.
Interior
The European cabin is sparse as they traditionally are but couldn't help but notice it wasn't as luxurious as you'd expect from an Audi.
A few red diamond cut inserts and the grey leather seats help to bring the level up however the mostly hard plastic interior just feels underdone.
Propeller style air vents point out of the dash and are easy to use and stylish but next to impossible to attach a phone cradle. The centre flip-up armrest also doesn't close off the storage bin.
The seats are nicely put together and it's always nice to have dedicated ISOFIX docks for easy installation.
While headroom is fine, all occupants will find legroom to be cramped as is the hatch-sized boot which makes having an auto operation for the small tailgate all the more bizarre.
Features
Auto start/stop
Sat-nav
Digital radio
Dual climate control
Paddle shifters
Auto tailgate
Electric park brake/auto hold
The multimedia interface is clear and easy to use but the driver info display takes the cake with four different menu selections and can change the size of the gauges to increase the view of the middle screen.
By contrast, the A/C control knob is on the small side making it fiddly to operate.
You'll also have to deal with a stock standard key and ignition surprisingly, as there is the absence of push button start.
Drive and Engine
Unlike the interior, the drivetrain isn't a letdown and was pretty fun to drive.
A smaller chassis means good motion and handling and very responsive dynamics.
The seven-speed sports automatic dual-clutch transmission of course switches gears as smooth as Teflon and as fast as a rabbit though it hangs on each to gear longer than needed.
The Audi Q2 gets around town nicely with a good deal of lift from the Quattro engine. This matches well with the balanced ride and direct operation.
The 2.0 litre turbo engine with 140kW/320Nm doesn't waste any time and is by no means sluggish even in the default drive mode.
Safety
Pre-collision detection
Lane assist
Blind spot warning
Park assist
Adaptive cruise control
The alerts for the collision detection is a light on the instrument cluster instead of an annoying beep.
Though it is equally as irritating as it flashes incessantly when a collision is imminent or you ride up the back of someone else.
I'm not a fan of auto start/stop at the best of times but the one in the Q2 cuts out marginally prematurely before a complete stop which creates a dangerous situation especially when slowly crawling.
Good Bits
Lively drivetrain
Handling and response
Driver info screen graphics
Seating fit and finish
Not So Good Bits
Interior finish
Pre-collision light
Sensitive auto start/stop
Size and space
Contrast tone C-pillar
Summary
Another smaller SUV to add to the already saturated market.
The Q2 is not the most spacious model both in the cabin and in the boot but presents itself with good construction and a decent list of features and safety options.
A dual-clutch and sprightly turbo drivetrain deliver a dynamic drive which is favourable to its compact size.
The Audi Q2 Quattro Sport offers up a meaty and pleasurable drive and is only marked down by the underwhelming interior.
Facts and Figures: 2018 Audi Q2
Engine: 2.0L four-cylinder turbo petrol producing 140kW/320Nm
Transmission: Seven-speed sports automatic dual-clutch
Warranty: 3 years/ unlimited km
Safety: Five stars
Origin: Germany
Price: from $48,500