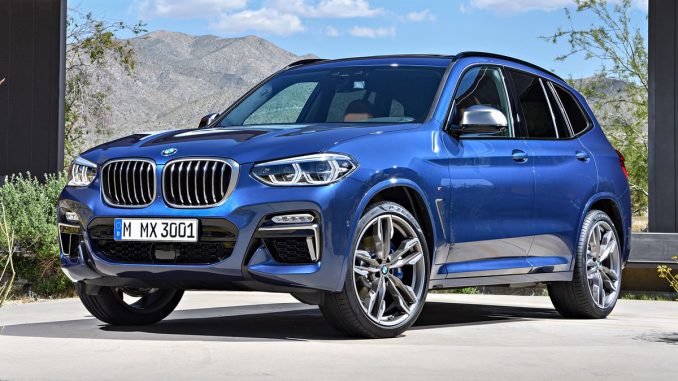 BMW X3 redefines SUVs, as SAVs. A strange statement to be sure but it means X3 is not defined by unneeded off-road credentials.
Once we understand that all becomes clear.
Very few SUV-like vehicles will ever see a dirt road let-alone rocky mountainside.
SAVs, or Sports Activity Vehicles, are intended to be for the week-end active crew rather than campers and off-roader fanatics.
Exterior
BMW kept the X3 lineup simple. 4 engines define 2 equipment levels with only an eagle-eye able to pick the difference. The badge is the key.
"30i" used to mean 3 litre straight six with fuel injection. Now, you have to look carefully at the brochure or webpage to be sure.
There are 4 models: 20i, 20d, 30i, and 30d. The latter is the only 6-cylinder in the range.
You can even leave the badge off if you want admirers to think you paid more.
Think of the X range as the higher-set wagon version of the low-slung road going sedans. Traditional wagons are so last decade. That is a great shame given the wagons drive exactly like their booted sisters.
X3 shares DNA with the 3 series cars.
The look is restrained to the point of a chicken dinner sans gravy. BMW could have done much more without going the full Bangle.
We never want to see those hideous jarring lines again. In trying to appeal to as wide a market as possible, the look has been tamed too far.
BMW circular "angel eye" DTRLs have morphed into a more mature double-4-sided array. A larger kidney grille and BMW roundel keep a familiar look which dates back to era of the sexy-as-hell 507 roadster.
While you're googling, have a look at the 1956 503 coupe some time.
Large rear lights wrap the rear corners in an impressive light show that looks good. The fact that LEDs are visible in all weather conditions is a big plus. All lighting is now super-bright, power-saving LED.
LED headlights are adaptive, with dusk sensing with time-saving auto-high beam.
Thankfully the metalwork sticks to a proven formula with a relatively upright rear window giving the cargo hold decent usable capacity.
Smart entry and start allows the driver to lock and unlock by touching the door handle, and to start the engine with a button on the dash.
The key can stay safely secreted about your person.
There is a handy gesture-controlled tailgate. Waving your foot casually under the left-hand side under the bumper will open or close the hatch, and will amuse your friends no end.
20" Y-spoke wheels look great in Orbit Grey.
They fill the wheel arches just like those drawings of cars on our school books used to.
Interior
We've reviewed other BMWs. Like them, X3 cabins are tres chic. A calm ambience belies the advanced engineering and computer power concealed within it.
There are lots of horizontal lines, and a proliferation of materials, but it all works.
Unlike the cutting-edge, clutter-free Tesla which removes all switches and knobs, X3 has a carefully thought out design to put everything where the driver needs it.
It looks complex at first, but each function sits within a clearly defined region.
One touch buttons sit above the climate controls and can be programmed to any feature you like, and are not restricted just to radio stations.
You can even do a sat-nav address if you wish. There is no Apple CarPlay as standard which is appalling in a posh brand.
A fully digital dash retains the analogue bezels partially outlining the taco and speedo. It would be much better without them and would allow the screen to be completely configurable. As it is, the dials are static.
Within the display, vehicle functions are clear on the high-quality screen. The background colour changes depending on the drive mode selected.
An all-important digital speedo, with speed, traffic, and SatNav directions also shown on the HUD. Heads Up Displays project carefully curated information on to the windscreen so drivers can keep their eyes on the road.
Once you've had HUD, you never go back, or something like that.
I love the touch of class real wood adds, and I think it is worth every penny. Sadly, the look has been cheapened by tacky plastic imitations in years gone by.
Features
X3 is packed full of the good stuff. iDrive6 controls functions displayed on the 10.25" touch screen. Our car was fitted with optional gesture control, but the volume control was the only gesture we could get to work reliably.
The "2-finger" gesture is user programmable.
We input our home address so that stabbing your fingers at the screen brings up directions home. You can imagine the fun we had trying to get it to work.
I frequently felt like giving it a completely different 2-fingered gesture.
Occasionally, undesired results ensued. Either the sound would turn up, or the satnav would spring to life. In the bin with it.
The sound system is brilliant even in standard guise. The 100w/6 speaker unit would make your living room seem pale by comparison.
The days of average sound don't cut it in the modern world. The tones are realistic with the bass being transported directly into your subconscious. You can "feel" the music.
Automatic tailgate operation
Adaptive LED headlights
BMW Head-Up Display
Comfort Access System
Cruise control with braking function
DAB+ Digital radio tuner
Driving Assistant Plus
Dynamic Stability Control (DSC)
Multifunctional instrument display
Navigation system professional
Parking assistant plus
Speed Limit Information (SLI)
Stereo speaker system, 100W with 6 loudspeakers
BMW Connected+
ConnectedDrive Services
Real Time Traffic Information (RTTI)
These following optional extras were fitted on test car:
Fine-wood Oak Dark high-gloss with highlight trim finisher Pearl Chrome $1,900
Dynamic Damper Control $550
Panoramic glass sunroof, electric $3,000
Lumbar support for driver and front passenger $600
Metallic paintwork $1,950
Harman/kardon surround sound system $2,000
Luggage-compartment separating net $400
LED fog lights $380
BMW Gesture Control $450
Drivetrain
I knew I was in for a treat when the X3 "pinged" me, warning of an inconsiderate broken-down car 0.9km ahead. BMW uses live traffic information even when sat-nav isn't in use.
Drivers could then decide to input an address and let the system divert you around the carnage if they so desired.
Active cruise control/lane keeping virtually drive the car sans human intervention. You can't take your hands off the wheel though or X3 will get cranky, as well it should.
The system will deactivate if you keep trying to go driverless. The plethora of "look mum, no hands," videos haven't helped matters.
It is particularly useful in stop/start traffic. You simply let the car do the work while you relax with some music. BMW stresses this is a driver-aid only.
Drivers are 100% responsible for their vehicle at all times.
Even in the most frugal driving mode, the BMW X3 feels frisky. Selecting sportier settings is quite the eye opener.
There is even a driver-preferred option where individual settings can be stored. X3 scampers, as most Beemers do.
You can have extra-light steering, with a cheeky throttle, and firm dampers. Of course, xDrive AWD is standard across the range..
Passengers enjoy a whisper-quiet compartment on most road surfaces. The ride is magnificent, however it does get a bit how's-your-father on juttery surfaces, especially with run-flat tyres on 20" wheels.
Safety
5 star (tested 2017)
Airbags
ABS
smart cruise control
Lane Warning and active guidance
Reversing camera with multi-mode 360 view
Cross traffic warning
Blind spot monitoring
Vehicle safety monitoring.
Emergency notifications
Good Bits
Appealing looks
Subtle, elegant, and efficient cabin design
AWD
Not So Good Bits
Long list of expensive options
Ride can be choppy on some surfaces
Apple CarPlay/Android auto not standard
Facts and Figures: BMW X3
Engine: 2.0L turbo petrol producing 185kw/250Nm
Transmission: Eight-speed auto
Safety: 5 star
Warranty: 3 Yrs
Origin: USA
Price: $75,900