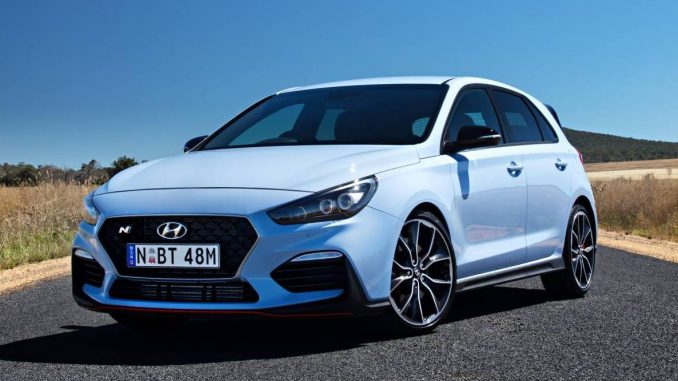 Kia got the Stinger but Hyundai got the i30N so who's the winner in this family feud?
Neither, they both did well in the race for pace with the Stinger appealing to a completely different audience to the i30N.
Having driven both, I'd gladly have either.
The twin turbo, rear wheel drive, V6 Stinger is a GT style 'sedan' … fast and composed over longer distances while the four cylinder, twin-scroll turbo, front wheel drive i30N is a point and squirt hot hatch that's track ready out of the box.
It had to happen because Hyundai head-hunted a BMW 'M' engineer to run its N performance department so just make sure you enunciate N as opposed to M when talking about the Hyundai hotrod.
The N has a few front drive competitors including VW's Golf GTi and the Honda Civic Type R.
It falls somewhere between the two of these cars in terms of outright capability and feel and is super competitively priced and equipped at $39,990.
Everyone asks is it as good as the Golf GTi and I'd have to say straight up that the N is at least the Golf's equal, possibly a tad sharper maybe not as polished.
I have asked Hyundai for a demo car to take to an MX-5 Club track day for some serious fast driving so if it happens, the exercise will be really interesting.. Wish I could get hold of a Golf GTi at the same time…
Exterior
Honestly, despite the body kit with functional aerodynamics I reckon the N is a bit reserved in appearance. It has a 'stance' and is different enough from garden variety i30s but not enough to scream what's under the skin.
The car's shape is handsome and the front is 'assertive'' but the whole plot looks a bit 'nice' where I would prefer something a touch nasty.
It's a five door hatch in some funky colours with a wedge shape side profile and truncated rear end. Big 19-inch wheels carry grippy Pirelli P-Zeros with huge multi piston disc brakes peeking out from behind.
The test car was a striking pale lilac colour which mightn't sound all that appealing but really stands out in a crowd.
Interior
Hyundai Australia laid it on inside the i30N by specifying only the Performance Pack version here. But two LuxuryPacks are additionally available.
The i30N scores plenty including sports seats and a swag of cool kit capped off by the centrally mounted 8-inch touch screen complete with a multi mode race computer reading out lap times, g forces, boost pressure, acceleration, power and torque..
The multi function wheel carries numerous control buttons and down below that are alloy sports pedals.
Gear shift change lights blink on along the top of the instrument cluster and all critical driver controls are arranged either side of the wheel in close proximity.
Overall, it looks like other i30s with more features and some flash fascia to impart a sporty flavour.
Features
The list is long but here are some of the goodies you'll find in i30N;
Electro-mechanical limited slip differential
Throttle blip on the down change
Cruise control
Electric driver's seat adjustment
Three drive modes, Normal,Sport and Sport +
Rain sensing wipers
Reverse camera
Satnav
Apple and Android connect
Park Assist
Exhaust note enhancement
Decent multi media system through 8-inch touchscreen
Launch control
Drive And Engine
Power comes from a high tech, 2.0-litre, twin scroll turbo petrol four cylinder with direct fuel injection. It's good for 202kW and 353Nm output with an extra twist to 378Nm on overboost for 18 seconds at a time.
It all goes through a manual six speed gearbox to the limited slip diff' controlled front wheels.
Performance is a strong point with the N capable of clocking perhaps a  6.0 second 0-100kmh sprint but it feels quicker than that particularly with the engine at higher revs.
Roll on power is strong and the throttle blip on down changes is really useful apart from sounding great.
You can punt the N really hard with confidence thanks in part to input from local Hyundai engineers including dynamic calibration. The car was also honed at the Nurburgring in Germany. Some front drive twitchiness is evident under certain conditions but nothing to worry about. It steers with precision, brakes like a demon and corners like it on rails. The manual change is slick and accurate.
But fuel use when you turn up the wick can be heavy for a small car. I saw an average of 8.9 litres/100km with normal driving.
Despite its hot hatch intent, the i30N is easy to live with and comfortable to drive and ride in, practical too when you fold down the rear seats.
Safety
Gets a 5-star ANCAP rating and has a full suite of advanced driver assist technology including autonomous emergency braking, forward collision alert lane keeping assist and driver attention alert to name just a few. Those P-Zeros are impressive too, wet or dry and the large diameter brakes, 345mm discs on the front, add a further measure of security on the road.
Good Bits
Strong engine performance
Impressive dynamics
Value for money
Generous luxury kit
Plenty of advanced driver assist technology
Styling will appeal to most people
Manual only like a real hot hatch
Long warranty and fixed price servicing
A really entertaining drive
Not So Good Bits
Likes a drink when pushed
Exhaust note disappointing
Too tame in appearance
Doesn't retain all drive settings when switched off
Summary
What a stunning car for the money. It's as good as a Golf GTi, better in some areas and has high levels of luxury kit and advanced driver assist safety technology. Along with that, they calibrated it here and you can set up performance and handling within wide parameters.
Facts And Figures: 2018 Hyundai i30N
Engine:  2.0-litre turbo petrol 202kW/353Nm (378Nm on overboost for 18 seconds).
Transmission:  6-speed manual
Safety: 5-star ANCAP
Origin: South Korea
Warrant:5 years/unlimited km
Price: From $39,990