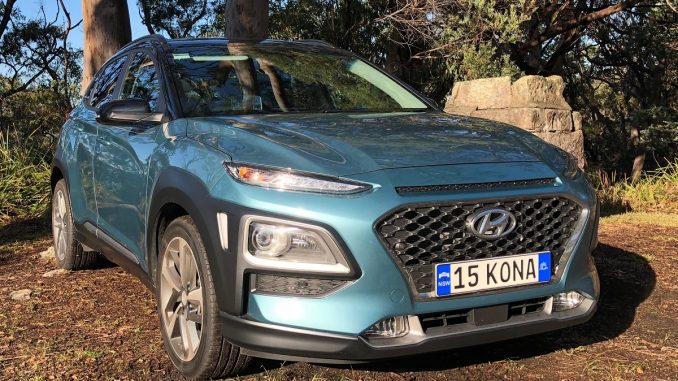 The crossover phenomenon continues with Hyundai being one of the latest brands to enter the fray with the new Kona.
A direct competitor to the big-selling Mazda CX-3, as well as offerings such as the Toyota C-HR, the Hyundai is an impressive new offering.
But, as is the case with all these offerings, if you're expecting a vehicle more capable than a run of the mill five-door hatch…well you might be disappointed.
Essentially, although you might sit up a little higher, have a bit more ground clearance and the illusion of being (at least in part) off-road capable, they really are just jacked up versions of models like the i30 and Mazda3.
Exterior
This was my first drive of the Hyundai Kona and that means I haven't really had a chance to get a close look at the new addition to the Hyundai range.
At first I thought perhaps the little horizontal faux-grille might have been superfluous, however it does give the Kona a standout from the pack type look.
There's some interesting lines going on around the car, especially at the rear, while the plastic body protection panels give you the 'off-road capable' illusion.
Interior
Perhaps the Hyundai Kona's weakest link – I had the top-spec Highlander and was a bit disappointed with the feel of the plastics used across areas such as the door trims.
No doubt hard-wearing and durable, in an offering on the other side of $33,000 I might have expected a slightly more luxurious feel.
While in negative town, as suspected, rear legroom is pretty minimal and I doubt any more accommodating of adults than i30.
There's also no rear air-conditioning vents, and there didn't appear to be any located out of view under the front seats either.
A lack of digital radio disappoints, and if you want to navigate somewhere you'll have to use your smartphone (through the Apple CarPlay/Android Auto).
Storage areas are small to adequate in size, the door pockets in particular are good for little more than a drink bottle.
But, I'm pleased to say there's also some really good points about the Hyundai Kona interior – these are headed-up by the infotainment system and control screen.
Located high and quite forward on the dashboard, the system is easy to use and when using your own phone through the Apple CarPlay/Android Auto functionality you'll feel right at home.
It's also pleasing to see regular push buttons down each side of the screen and proper volume and tuning knobs retained in the Hyundai.
Boot space is decent, but actually smaller than i30 – 1301 litres to 1143 litres.
Heated seats (and ventilated too) in the Highlander were a nice touch during my mid-winter test drive.
Features
As you might expect the top-spec model comes with a decent selection of standard gear, including:
Electric front seats
Heated/ventilated front seats
Head-up display
Heated steering wheel
Autonomous Emergency Braking (AEB)
Cruise Control
Front and rear parking sensors
Blind-spot monitoring
Reverse camera
Push-button ignition
Rear Cross Traffic Alert
Apple CarPlay/Android Auto
Optional equipment runs only to premium paint/two tone roof. If you're looking for a sunroof/panoramic roof, keep looking – neither is available in the Kona.
Drive and Engine
Here's where you will have to make a choice – do you opt for the Kona Highlander's standard 2.0 litre naturally aspirated engine, or cough-up an extra three grand for the 1.6 litre turbo with all-wheel drive?
My test vehicle was the 2.0 litre version, I thought it got along better than OK.
Fuel economy was a very competitive 7.4L/100km and the six-speed auto transmission smoothly helped aid the work of the 110kW/180Nm engine.
A seven-speed auto features in the turbo car and power and torque steps up to 130kW/265Nm – my colleague Peter Barnwell has driven both and says he prefers the turbo.
Test drive them both to see which suits you more.
I thought the local tuning that Hyundai does again paid off here with the Kona riding and handling in a better than acceptable manner on our fairly low standard roads (at least in Sydney).
Good Bits
Competitive pricing
Standard features
Fold flat rear seats
Not So Good Bits
Some hard plastic in cabin
Rear seat legroom
No sunroof option
Safety
A five-star ANCAP safety rating features right across the 2018 Hyundai Kona range.
Take note though, if you're going to opt for a lower-spec Kona you will have to do without assist features such as AEB.
2018 Hyundai Kona Highlander
from $33,000
Summary
I'm not a huge fan of crossover models.
I can't see the point of shelling out more dollars for essentially the same capabilities as a five-door hatch.
In saying that, I quite enjoyed my week in the new Hyundai Kona.
I think it drove better than the CVT-equipped Toyota C-HR and held its own against the segment leading Mazda CX-3.
Facts and Figures: 2018 Hyundai Kona
Engines: 2.0 litre petrol producing 110kw/180Nm or 1.6 litre turbo petrol producing 130kW/265Nm
Transmissions: 6-speed auto (2WD 2.0-litre), 7-speed dual clutch DCT (AWD 1.6-litre)
Safety: Five stars
Warranty: Five years
Origin: South Korea