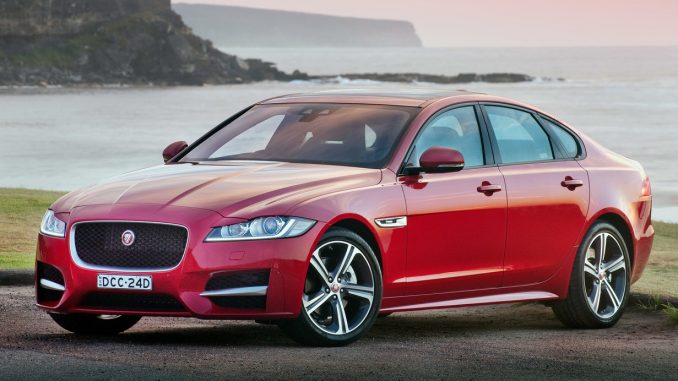 The 2018 Jaguar XF battles against some well-established and popular offerings in the large premium sedan race, think Mercedes-Benz E-Class, BMW 5 Series and the Audi A7.
But there's something the big Jag has that the others don't…a true unique personality and feel.
Exterior
What a gorgeous looking medium/large four door sedan but not unexpected as it came off the pen of Ian Callum, one of the best car designers on the planet.
He has been able to make the large XF look smaller than it actually is by using a tapered rear end, low arcing roof line and low front end for a dramatic effect.
It follows no current design trend, instead, forges its own that really makes the large Jag stand out in a crowd.
But the design does have a flaw or two in particular limited rear seat legroom and a shallow  boot but it doesn't detract from the car's appearance _distinctly Jag, distinctly modern with predatory-looking LED lights front and rear to set it off. Grrrrowl.
Interior
Like the outside, the inside is all style (and function) with a sweeping dash curving across the front with a centre pod recessed into it and a large touch screen controller in the middle.
The test car was an R-Sport which specifies sporty seats and leather upholstery and other sporty touches like the wheel and paddle shift along with two tone colour schemes to the seats and various fascia some of which feature a textured aluminium finish. Stylish indeed!
There is plenty of room in the front, a premium audio system and fast hook-up phone and satnav.
Features
Notorious for its extensive options list which Jag says their buyers want for exclusivity, the `standard' spec XF 25d R-Sport is in fact generously kitted out with goodies like cruise control with speed limiter, electric parking brake, torque vectoring by braking, Jaguar drive control with multiple modes, sports suspension and a swag of active driver assist technology.
Steering column adjustment is electric and the R-Sport gets rain sensing wipers along with cool looking LED headlights. Body add-ons and paint-outs are used to convey a sporty image.
We particularly like the multiple electric adjustment offered to the front seats, front and rear park assist and reverse camera.
Drive and Engine
Apart from the striking appearance and luxury equipment, this car's stand-out feature is its 177kW/500Nm, 2.0-litre twin turbo diesel engine that
doesn't sound like a diesel
performs like a sports sedan
uses as little as 5.3-litres/100km and
Scoring an EU6 rating, has minimal environmental impact partly due to the AdBlue injected into the exhaust.
Drives the rear wheels too as all 'proper' cars do – in this case through a silky shifting eight-speed auto.
The engine actually has a bit of character to its sound as well as delivering solid performance across a wide rev range.
However, despite having twin force feeders (highly efficient variable geometry turbos) pumping fuel and air into the engine, some hesitation off the mark is evident.
But you can drive around it and once mastered, the Jaguar XF 25d is a sporty diesel like few others.
You simply don't need that big petrol V6 or a V8 with an engine like this in the offing.
It handles well into the bargain with agile responses to the steering and well controlled suspension along with powerful brakes.
The 50/50 weight distribution no doubt helps big time.
Minimal noise intrudes into the cabin, non at cruising speeds and the big XF is one of those cars you can jump into and drive big distances in one go if you want.
Safety
As it stands, without the optional and additional advanced driver assist technology, the XF 25d R-Sport gets a five star crash rating.
That means good stuff like autonomous emergency braking, lane departure warning, brake assist and blind spot monitor are there but lane keeping assist, adaptive cruise and driver fatigue warning is optional.
When you boil it all down, the car is adept enough to help even lousy drivers avoid a crash in the first place.
To save weight, the body uses plenty of aluminium as does the powertrain.
Good Bits
Super economical
Sounds good
Strong performance
Slick eight speed auto
Arresting looks
Plenty of luxury and safety kit
Point of difference to usual Euro prestige cars
Sharp pricing
Passes EU6 emissions
Not So Good Bits
Options are expensive
Rear seat room tightish
Weighty despite use of aluminium
Phone connection can be iffy – drops out sometimes… oops
Summary
We really like this car as it isn't a Benz, Audi or BMW.
Looks better than any of them and goes great into the bargain along with using minimal fuel.
The price escalates quickly if you can't resist 'customising' your XF but that just accentuates its exclusivity. It's fun to drive, has plenty of `wow' factor and stands out in a crowd. Who cares about resale…
Facts and Figures: 2018 Jaguar XF 25f R-Sport
Engine: 2.0 litre twin turbo-diesel four-cylinder 177kW/500Nm
Transmission: Eight-speed auto RWD
Safety: Five stars
Origin: UK
Warranty: 3 yrs/100,000km
Price: From $87,400
2018 Jaguar XF 25d R-Sport