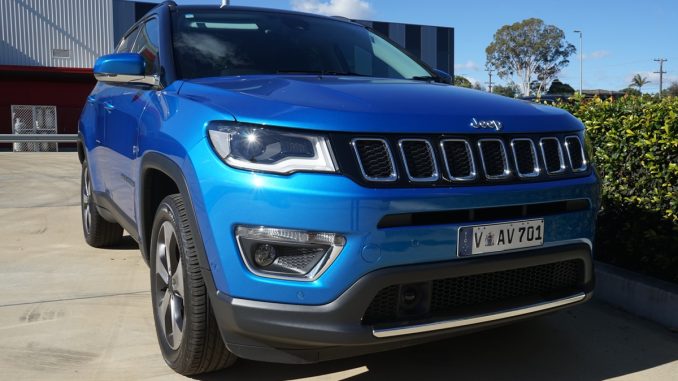 Everyone seems to be getting in on the compact SUV market in response to the growing popularity of the segment.
Jeep is no different with its Jeep Compass Limited, however, this small SUV is a genuine 4×4 which is rare for this size.
And while I hadn't driven a Jeep for some period, the Compass presented an interesting drive.
Exterior
The Jeep Compass has a standard Jeep SUV shape. Kind of a like Cherokee only smaller.
There's nothing particularly outstanding about the design but still makes for a handsome physique with the two-tone body – a black roof ($495) paired with, in this case, a striking blue coat of paint.
Interior
The interior is coated in black plastic highlighted by some glossy black inserts.
The seats, while upholstered in tight, smooth leather, at rather flattish and aren't as accommodating as seats in other models.
To hide sensitive material or that extra sandwich there is a secret storage compartment under base of the front passenger seat.
Other storage is available but limited in size. The centre console takes the expected receptacle shape but space is non-existent, filled with the 4WD dial and USB/12V ports leaving only enough space for a box of Tic-Tacs.
On the bright side, literally, is a large double pane sunroof ($1950) and an equally copious 8.4" touchscreen
The driver also gets a nice colour display with a heap of info but ironically no compass.
While the cabin itself is not overly spacious given it is a compact SUV, but at the same time doesn't feel claustrophobic.
Boot space is average and the fold down seats proved handy during a trip to pick up a box of furniture.
And this is the first time I've had trouble fitting in my ISOFIX baby seat after countless test vehicles.
Jeep has a basic arrangement with the anchor point tucked between the seat sections but fitting the clip in there was a trial.
Features
The second tier Compass limited is fitted with some welcome conveniences:
Dual climate control
Park assist
Heated seats (only controllable from touchscreen)
Electric park brake
Adaptive cruise control
Speed limiter
Beats speaker system
Satellite navigation
Auto dimming rear view mirror
Powered tailgate
Strangely the adaptive cruise control is operated by a separate button to normal cruise control.
I love the powered tailgate. Of course it's always great to have one if you're lucky enough (or lazy enough), but the close button is thankfully not located on the door itself.
Jeep have situated the button in the boot itself at around loading height, negating the need to change position, crane your neck, and reach up to press the button to close the door. All SUVs should be like this.
Drive and Engine
Overall, the Jeep Compass 2.4 litre petrol offers a good. Solid and stable ride and has no real faults.
Steering is precise and being a tight, compact package, has nice driving dynamics.
The naturally aspirated engine isn't aided by a turbocharger and the modest 129kW/229Nm of power and torque doesn't deliver immediate power off the mark.
But once you get past the lag, the Compass kicks in and rolls along with some vitality.
There was no opportunity to test the Compass capabilities off-road though it does come with low range 4WD selection.
More challenging terrain may be difficult given the lower clearance height.
Safety
The Jeep Compass comes with a decent kit of safety features like lane departure, blind spot monitor, front collision warning, rear cross traffic alert, and of course seven airbags with reverse camera and sensors.
The lane departure tech is over sensitive and beeps too early as well as cutting out the volume to the radio as it beeps and can get irritating.
However, I'm not a fan of the lane keep assist system which is supposedly there to help you if you absentmindedly drift out of your lane.
But I found this to also be sensitive and swings the wheel back in when you least expect it or don't intend for it to, bordering on being dangerous.
Good Bits
Style and design
Touchscreen and driver info displays
4WD capability
Powered tailgate button
Not So Good Bits
Lack of storage
Simple seats
Pickup and power
Lane keep assist
Summary
The Jeep Compass what somewhat of a mixed bag with good design features (eg. power tailgate button, panoramic sunroof), full features, user friendly touchscreen and great drive qualities.
But on the downside is the lack of low down power, limited storage, over sensitive sensors and basic seats and interior.
Priced from $41,250 the Limited offers good features and safety, a comfortable drive plus off-roading capability in a compact SUV.
Facts and Figures: 2018 Jeep Compass Limited
Engine: 2.4L petrol producing 129kW/229Nm
Transmission: Nine-speed automatic
Safety: Five Stars
Warranty: 5 Yrs/100,000km
Origin: India
Price: from $41,250
2018 Jeep Compass Limited