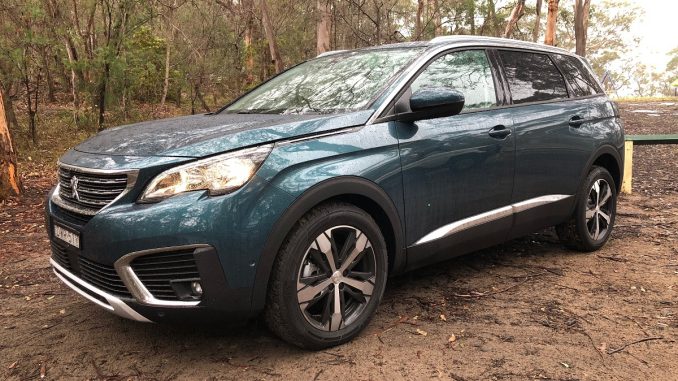 I've driven them all and I reckon the Peugeot 5008 is one of the best family vehicles on the market.
It's just an ongoing pity that more Aussie family car buyers don't give the Peugeot seven-seat SUV a closer look.
Some people must think that Peugeot, and their Citroen stablemates, are priced out of their reach, that really isn't the case though with this offering starting from $42,990.
Aside from the much less equipped rivals, with the amount of tech and accessories you get in the Peugeot it is just about in line with the pricing of on anything else in this segment.
And you'd be crazy if you didn't check it out.
Exterior
The French often go too far with their designs, in recent times though they have managed to still put some flair in without alienating the majority of buyers.
That is very much the case with the 2018 Peugeot 5008.
I really like the cat claw taillights and the stylish side styling, it breaks away from the pack and almost looks a bit mini-van like from the side.
The concaved grille might turn some people off, however I'm OK with it.
Interior
Smart is the word here. The way the seats fold, slide and tilt in the Peugeot SUV is just brilliant.
Even the front passenger seat-back tilts forward and folds down to the base (as seen below) and this allows you to carry objects such as surfboards in the vehicle.
The third row of seats, like every other seven-seater in the mid-size SUV category, will easily accommodate children, however adults would struggle for comfort/space on longer trips.
Don't want seats six and seven? That's OK, just pull the tab and they lift out.
While the middle-row seats are split into three sections and this allows for flexibility around who/what you're carrying in the back.
Up front in the drivers seat you'll find a full digital display that is able to be customized at the push of a button.
This allows you to have sat-nav info straight ahead of you, or you can choose the typical dial type speedo/tacho etc. It is all very smart and a great selling point.
The centre infotainment screen is controlled by shortcut keys just below – I really like these, and you can also use the screen as a touchscreen.
You get Apple CarPlay/Android Auto and Digital Radio in there too.
Cabin storage areas are all nicely-sized, the seats are comfy and there is good headroom too.
But proving the point that every rose has a thorn – yep, this vehicle also has the odd-ball cruise control stalk positioning that doesn't allow you to see the controls from the driver's seat.
Features
The Peugeot 5008 GT-Line is the mid-spec variant in the Peugeot SUVs line-up and comes with a really generous list of standard features.
As already mentioned, Apple CarPlay/Android Auto, sat-nav and digital radio are all there, as well as:
Dual-zone climate control
Front and rear cameras
Blindspot detect
Push-button ignition/keyless entry
Autonomous Emergency Braking (AEB)
Adaptive Cruise Control
Lane Departure Warning
Auto headlights and wipers
Height adjustable front seats
Electric hands-free tailgate
Ambient cabin lighting (a nice touch)
Rear seat (airplane style) tables
Rear window blinds
Really, the only thing missing from this grade of the Peugeot are heated seats, you have to step up to the top-spec, diesel-only, 5008 GT to get a warm bum on cold mornings (check out our review of the flagship model).
Drive and Engine
So, the base-model Allure (reviewed here) and the GT-Line are both equipped with a 1.6 litre turbo-petrol engine that drives the front wheels exclusively through a six-speed auto transmission.
Both models are available with the optional Grip Control function that gives you selectable drive modes and a little bit of extra light-duty off-road ability.
For an extra $200 you would be mad not to get it.
The petrol engine gives you 121kW and 240Nm and while the numbers might seem small I don't think the vehicle, for its intended purposes, feels underdone.
The power to weight ratio is a very respectable 82.1 (W/kg) and this sees the Peugeot move along easily with the traffic.
The top-spec diesel is a nicer tourer though and should be considered if regular long trips and/or towing are on your agenda.
The small steering wheel feels a bit odd at first, but again I like it – combined with the really light steering, excellent turning circle and responsive engine this is a family SUV that isn't a chore to drive.
Safety
At this stage there isn't an ANCAP safety rating for the 2018 Peugeot 5008, however the near identical five-seat 3008 has been awarded five-stars.
As you can see above there is a generous array of driver aids as standard, including AEB on board.
Good Bits
Flexible seating
Standard tech
Easy to drive nature
Not So Good Bits
Cruise control stalk location/design
Nowhere to store rear cargo blind when third-row seats are in use
Summary
As I said at the top this is an excellent opportunity for a family to hop into a seven-seat vehicle without sacrificing good driving dynamics and without breaking the bank.
The new-generation Peugeot 5008 SUV is a well-designed vehicle that is packed full of technology and flexibility.
If only more people knew about it!
Facts and Figures: 2018 Peugeot 5008 GT-Line
Engines: 1.6 litre turbo-petrol producing 121kW/240Nm
Transmission: Six-speed auto
Safety: Not tested
Warranty: Five years
Origin: France
Price: from $46,990
2018 Peugeot 5008 GT-Line