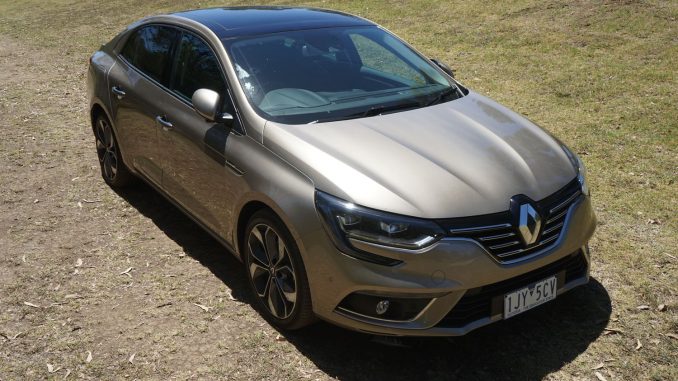 This is our last look at a model from the impressive Renault Megane range, finishing the journey with the Intens sedan.
It is one of two variants in this body type, the Zen being the other, and unlike the Megane hatch and wagon, is most peculiarly constructed in Turkey.
The Megane sedan is priced from a sensible $28,490, the upper spec Intens is valued at $33,990.
External
All other specifications, inside and out, are the same as the wagon and hatch except of course for the tail end.
The boot in the sedan has adequate dimensions being deep but not so wide. Most bigger items would have to place inside lengthwise.
Internal
The dashboard is well presented and attractive, not being overly cluttered and practical but classy.
I was again happy to see the changing ambient lighting on the door panels, switching colour with the choice of drive mode. For natural light the standard sunroof overhead will do the job controlled by a dial instead of a switch.
Features
Renault's R-Link interface is installed on the large 8.7" vertical aspect touchscreen, though as in all other variants, making quick air conditioning adjustments on screen can get irritating.
No electric seats can be found in the Megane line up however they are leather in the Intens grade.
Drive and Engine
Both the Intens and Zen come with the same 1.2 litre turbo petrol engine and seven-speed auto and dual clutch transmission.
That's the same motor as the one found in the lower grades of the other Megane models producing 97kW of power and 205Nm of torque.
While this is no powerhouse, especially with <100kW of power, it does give the Megane adequate strength for quick acceleration and easy overtaking.
Once again, there are five drive modes to choose from, as well as other driver supports like auto start/stop, adaptive cruise control, speed limiter, and park assist.
It displays a great deal of enthusiasm, and obviously more punch in sports selection all achieved while the driver sit in a quiet cabin.
Handling is brilliant and like I said in my review of the Megane wagon, almost feels like steering the smaller hatchback.
It was definitely a pleasure to drive all week.
What got me head scratching was the high displayed fuel consumption of 11.3L/100km, considerably more than my drive the 1.6L Megane GT.
Safety
The Intens comes standard with front and rear parking sensors with rear view camera, AEB, lane departure, distance warning and blind spot monitoring.
However, the Megane sedan does not yet have an ANCAP safety rating.
In the rear seats ISOFIX ports are found, now a common inclusion in the majority of new cars.
What isn't standard is their presentation, with many manufacturers opting for the easy option of shoving them between the seats forcing you to stick your hand in like searching for loose change down the back of the sofa.
Renault places their anchors in neat plastic housing with a flap making them not only easy to find but a child seat easy to install.
Good Bits
Enthusiastic drive
Good handling
Large touchscreen with R-Link
Ambient lighting
Driver assist systems
Easy access ISOFIX
Great family car
Not So Good
No powered seats
Narrow boot
Facts and Figures: 2018 Renault Megane Intens Sedan
Engine: 1.2L turbo petrol four-cylinder 97kW/205Nm
Transmission: Seven-speed sports auto dual clutch
Warranty: 5 Yrs
Safety: Not yet tested
Origin: Turkey
Price: From $33,990
2018 Renault Megane Intens
Summary
To sum up, the Renault Megane Intens sedan is a fabulous family car option full of verve and comfort with a thorough spec sheet.
While the Renault Megane range itself has something for everyone, a choice of body types, engine types, decent performance and excellent presentation.