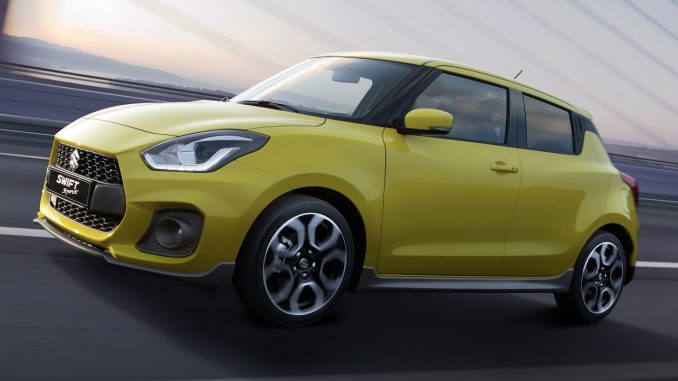 It's always seemed a bit underdone compared to other offerings in the rocket powered roller skate class and on the surface, new Suzuki Swift Sport looks like maintaining the status quo.
But they're sneaky buggers in the Suzuki skunk works because the new model delivers far more than what is suggested on paper.
It's a hoot and even the auto puts a big smile on your dial.
Exterior
Though getting larger and more conventional looking with each successive model, the new Swift Sport has a cheeky appearance that's unmistakeable.
That said, I prefer the look of the car a few models back when it was a chunky little box with a curved rump and happy face.
This one looks a bit like plenty of other cars in the class especially the Ford Fiesta and some of the Hyundais.
The good news is it's a functional 5-door shape offering a reasonable boot and seats for five at a pinch.
They carved off around 80kgs of lard too which is moving in the right direction.
The garish striping on the bright yellow test car was over the top but other than that, no complaints. It's a fun car that's fun to look at.
Interior
We like the way Suzuki does its interiors with most controls through apps on the centre mounted touch screen with a few others by switches dotted around the driver's cockpit and on the sporty wheel.
The Sport scores excellent seats with large side bolsters and decent lumbar support but the wheel is rake adjust only.
Plenty of storage bins dot the cabin but no centre armrest in the front.
The info' read out between the two main dials is excellent even offering data on turbo boost, acceleration and deceleration, power and torque outputs and other stuff all by graphics and not numbers – very cool.
It's roomy inside with excellent head room and an attractive dash layout.
Features
Plenty of goodies adorn the Swift Sport including good stuff like;
SUNA hard wired satnav
Impressive multi-media system and connectivity
Multiple steering wheel controls
17-inch alloys
Adaptive cruise control
Decent audio
Reverse camera
Paddle shift
Push button start
Comprehensive trip computer
Drive and Engine
It's a front wheel drive with an open diff' so there are limitations to how sporty you want to drive your Swift Sport.
However, the auto we tested was a quick little device make no mistake about it and the level of performance belies the 103kW/230Nm output claim.
It's because they got the gearing right and fitted a VGT (Variable Geometry Turbo) to the 1.4-litre direct injection four cylinder.
That turbo spools up really fast and gives Swift Sport some serious kick off the line. The turbo is close coupled incorporated into the inlet manifold for further efficiency gains.
Initially, we were expecting the six speed auto Swift Sport to be a bit dull – how wrong we were. It's arguably the preferable model for general driving and a sporty blatt on a Sunday morning. Track days….?
Well, maybe not.
There's a bit of steering rack rattle around tight bumpy corners and it ultimately understeers pushing the front outside wheel towards the outside of the corner but hey, it's no race car and is more your sporty city runabout
The handling feel is sharp with firmish damping and quick steering response. Great brakes too with upgraded pad material for heavier use.
About the only disappointment is the lack of a crackle to the exhaust note . Oh, well, can't have everything.
Safety
This is where the Swift Sport really shines as it has generous levels of advanced driver assist technology that includes autonomous emergency braking, lane departure warning, weaving alert, high beam assist and  adaptive cruise control.
Scores a five star ANCAP rating too and the dynamics of the car will aid crash avoidance in the first place.
Good Bits
Strong engine performance
Impressive economy at 6.1-litres/100km
Tidy dynamics despite rudimentary torsion beam rear axle
Slick auto with paddle shift
Generous advanced driver assist features for the price
Loses 80kg of bulk
Great value for money
Excellent all rounder with sporty flavour
Made in Japan
Not So Good Bits
Limited colour palette
Sometimes annoying phone hook up
Quiet exhaust
Getting bigger in size
Styling more generic
Summary
As you can see I really like this car. It's made in Japan which is a big plus for me (and everybody). Goes great, handles well, generously equipped, safe, economical, looks OK, affordable, need I go on.
I'll take the blue please with auto.
Facts and Figures: 2018 Suzuki Swift Sport auto
Engine: 1.4-litre, turbo four cylinder petrol producing 103kW/230Nm
Transmission: 6-speed auto
Safety: 5-star ANCAP
Origin: Japan
Warranty: 3yr/100,000km
Price: from $27,490 (auto)