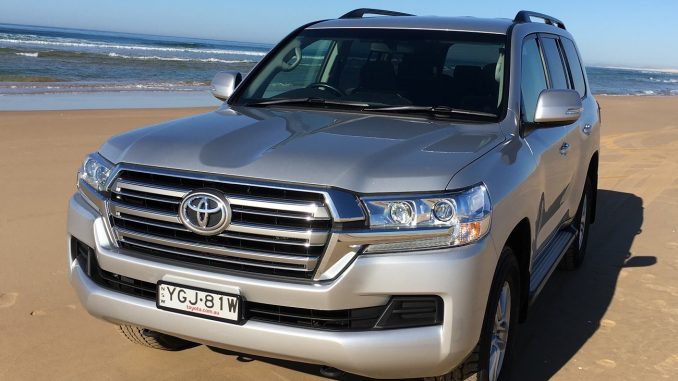 Toyota has had unprecedented success with its Landcruiser range over the years and the 2018 Toyota Landcruiser GXL V8 diesel is probably the most popular of the range
Let me state upfront that I am an ardent fan of the big off-road beast having owned a few of them previously.
Exterior
The latest model features a new grille, projector halogen headlamps, bumper, bonnet and fenders at the front, LED low-beam headlamps with auto-leveling (static), LED clearance lamps, roof rails and a restyled rear that includes LED tail lamps.
The bonnet scoops are interesting and subtly reminds you of the hulking V8 beneath.
Interior
The interior on the LandCruiser GXL now has soft touch padding around the centre console in areas that come in direct contact with occupants' legs.
There is an electronic lumbar support that increases comfort on the fabric seats.
The driver has a commanding view both internally and externally.
The lower front bonnet really helps with tyre placement, rear visibility is great with the reversing camera and the external rear view mirrors are amongst the best in the business.
The indicator, washer and cruise control stalks are visible behind the steering wheel as well.
The 2018 Toyota LandCruiser dash is clear and easy to read with two large white on black dials and transmission selector in between.
The height and reach adjustable steering allows more direct response, not vague like previous models.
The centre stack touch screen was a pain as it required a hard push sometimes 2 or 3 pushes and not soft touch.
Centre console is tidy and the 4WD controls are a breeze to use. The GXL does have sat-nav which is a bonus.
There is no Apple CarPlay and AndroidAuto.
There is plenty of head room, leg room for the taller drivers and everything is neatly packaged. By far the best interior on a LandCruiser ever.
The middle row of seats will sit 3 in comfort and with the low floor over the transmission tunnel, foot room is great.
The third row will seat 3 passengers that don't mind their knees around their chest. There are A/C outlets in the rear seats with dual zone controls for the front.
Boot space is compromised by the ridiculous fold up third-row seats.
Features
Some of the key features of the GXL LandCruiser are:
Aluminium side steps
Smart Entry and Start
Dual Zone Climate Control
Reversing Camera
6.1" Touchscreen display, MP3 compatibility, DAB radio functionality, Satellite Navigation, Bluetooth connectivity and 6 speakers
1 x 12V accessory connector and 220V rear accessory connector
LED low beam headlamps with standard auto-levelling and LED clearance lamp
Drive and Engine
The diesel engine has been slightly upgraded now producing power of 200kW and 650Nm of torque.
That makes for very relaxed highway driving, easy towing, controlled off road driving and surprising take off in the city.
This power is delivered through a smooth and robust electronically controlled six-speed automatic transmission. It also runs full time 4WD with low range when needed.
There isn't any need to talk about the LandCruiser's off road ability or towing ability. Both are excellent.
The GXL surprised me with how well behaved the near on 3 tonne vehicle was on the road. I took the GXL out to the farm and on the hilly twisty Bells Line of Road it took to the road like a vehicle weighing much less.
Out on the highway west of Lithgow it was remarkably quiet with very little wind or road noise, cruised between 100 and 120km/h without effort and I arrived relaxed and was comfortable throughout.
Safety
Safety is a feature with the 200 Series having a 5 star ANCAP safety rating.
Features include:
Seven airbags
Vehicle stability and active traction control
Multi-terrain anti-skid brakes
Hill-start assist control
Trailer sway control
Emergency brake signal
It does miss out on a number of the newer extra safety features though.
Good Bits
Powerful diesel engine
Smooth ride & handling
Towing & 4WD ability
Not So Good Bits
Underslung spare tyre
No DTE reading
Fold up rear seats
Summary
The Toyota Landcruiser does have some shortcomings. Amongst these are a low load capacity with two or three passengers on board, slightly excessive oil usage for the turbo diesel engine, spare tyre underneath where it can be scraped over rocks and fold up rear seats.
These pale into insignificance compared to the benefits of a powerful and economical diesel engine, awesome 4WD and towing ability, outstanding outback touring ability and comfort.
The LandCruiser 200 series still is the yardstick by which all other large off road 4WD's are measured.
Facts and Figures: 2018 Toyota LC200 GXL V8 D4D
Engine: 4.5L V8 D4D 200kW/650Nm
Transmission: Six Speed AT 4WD
Safety: Five stars
Origin: Japan
Warranty: 3 yrs/100,000km
Price: From $96,200
2018 Toyota LandCruiser GXL Review