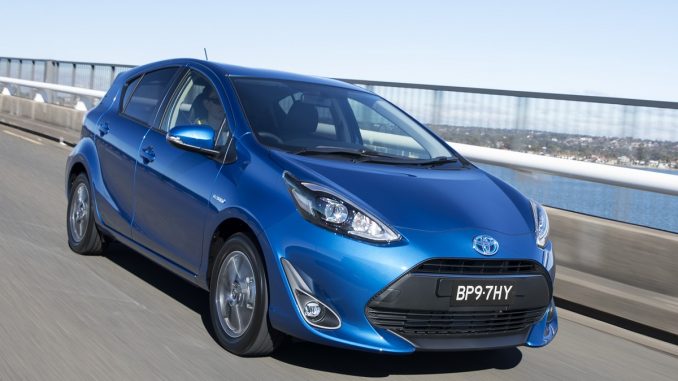 Right now, Toyota has its environmental commitments covered with a range of hybrid vehicles, the most affordable of which is the Prius C that sells from $24,040.
The more luxurious and better equipped i-Tech model as driven here goes for $26,540.
If you hate going to the servo, one of these little jiggers is the go.
They sip fuel at ridiculously low rates and make handy 'shopping trolleys' with the potential to be driven with confidence on the freeway as long as you don't expect too much.
Exterior
Looks a bit like a Ford Fiesta at the front and like someone chopped off its tail but the overall appearance is inoffensive. Thank goodness they didn't simply scale down the larger Prius.
The Prius C is a five door hatch that can fit in tight spots due to its compact dimensions and easy handling.
The styling won't win any beauty contests but is possibly the least confronting of Toyota's three Prius models.
Toyota tweaked Prius C recently with revisions to the front and rear along with a stronger chassis with more welds and other improvements.
Interior
Inside is a fairly generic space with a predominance of grey plastic surfaces but a decent looking centre screen and a new, sporty wheel with a slightly oval shape and a number of buttons to control various functions.
The instrument pod is set into the centre of the dash with a digital speedo and other info' displayed. Some soft touch fascia are fitted this time around.
It's easy to see all the readouts and the whole 'cockpit' is functional and fairly easy to use. Plenty of storage dots the cabin.
Features
The 2018 Toyota Prius C i-Tech scores leather upholstery and a decent audio system.
Sat-nav, the good SUNA system, is included along with ToyotaLink connectivity (also in the base model).
The iTech has LED head lights and other goodies over and above its cheaper stablemate.
Not a lot of driver assist technology but the economy coaching tool is cool to use.
Rolls on 15-inch alloys as opposed to steelies on the base Prius C.
Drive and Engine
Power comes from a 1.5-litre petrol four cylinder that uses the efficiency boosting Atkinson Cycle for combustion… and an electric boost motor for starting off and in coasting and reversing applications.
Toyota engineers prioritise electric motor use to optimise fuel economy and to cut emissions.
They figured out a way to keep the aircon' running when the petrol engine is stopped – for a short time.
Combined output of the petrol engine and electric motor is 74kW – quite a handy output for a car this size.
Toyota doesn't offer a combined torque figure but it feels like 160Nm which is responsible for propelling this 1120kg small hatch.
The really, really good thing is how low fuel consumption can go.
There's a neat little readout that awards first, second and third placings to recent drives.
On one 25km run I actually achieved an average of 2.6-litres/100km – astonishing given my heavy right foot.
Claimed average fuel economy is 3.9 using cheaper E10 into the bargain.
The only thing I have trouble with is the slurring CVT auto – it's the so called "rubber band" type that revs up the engine with acceleration trying to catch up.
A Sport mode is available as well as Eco, Normal and EV, with the latter  taking you perhaps 2km at speeds under 40km/h.
Safety
Gets a five star ANCAP crash rating but misses out on advanced driver assist technology which the original version predates by a few years.
Still a safe car with strong scores in most ANCAP tests. Both models have a reverse camera.
Quite impressive for such a small car designed a while ago.
Good Bits
Super economical
Easy to park
Safe
Reliable
Affordable
Practical
Goes OK when you wind it up
Excellent sat-nav
Decent audio
Cheap service costs @$140 a pop
Not So Good Bits
Slurring CVT 'auto'
Smallish boot
No advanced driver assist technology
Summary
This is a surprising little car and very handy used in its natural environment – around town.
Zip here, park, zip there and don't go to the servo very often. Big tick for that.
Two new colours joined the Toyota Prius C palette late last year including the striking yellow of the test car. Makes you stand out, that's for sure and you don't have to plug it in or worry about how far it will go on a charge….
Facts and Figures: 2018 Toyota Prius C i-Tech
Engine:  1.5-litre petrol four cylinder in combination with electric boost motor, 74kW, approx. 160Nm combined output.
Transmission:  CVT auto
Safety:  5-Star ANCAP
Origin: Japan
Warranty: 3 years/100,000km (car), 8 years/160,000km battery.
Price: from $26,540
2018 Toyota Prius C i-Tech