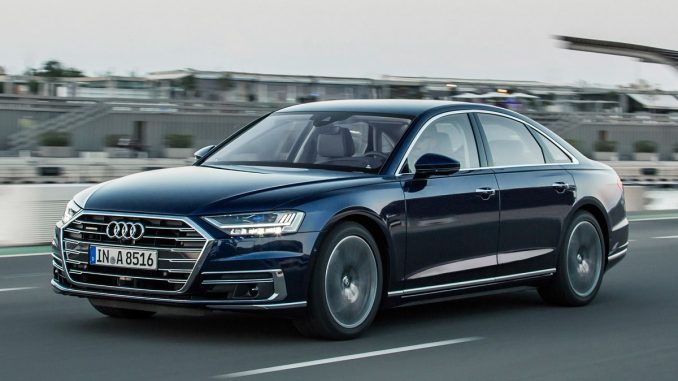 Audi's range topping A8 is now into generation 4 retaining many of the signature features of previous generations and adding some new ones.
However, the V8 is dead (unless there's an S8 high performance V8 waiting in the wings) so it's 3.0-litre V6s this time around in turbo petrol 55 TFSi and turbo diesel 50TDi with both getting a 48 volt mild hybrid electric system to boost performance.
All have a level 3 autonomous drive capability, eight speed auto transmissions, quattro all wheel drive and are made mostly of aluminium/carbon using Audi's ASF space frame technology that purportedly reduces weight.
You can get one in short and long wheelbase, both longer than their predecessors, and premium "packages" allow a level of customisation for your A8.
Only thing is most will go to the hire car fleet so any benefit in terms of drive feel, engagement and comfort for the driver are possibly wasted.
Bloody good to ride in the back seat though.
Exterior
This is a new design language from Audi with sharper highlight lines and a more assertive front featuring Audi's characteristic grille and feline LED/laser headlights.
The new Audi A8 is an imposing car with large proportions and big doors, boot and bonnet but I personally think it's too conservative and too derivative of other models in the Audi lineup.
The wheels are huge, there are splashes of chrome trim and a strange tail light treatment with a garnish between the two lights that looks like a throwback to a previous era.
The colour palette reflects the potential buyer profile… theme and variations on grey/blue but posh.
It has a coupe like silhouette with an arcing roofline and commands attention on the road simply by its sheer size.
Interior
No cause for concern here as Audi arguably does the best interiors around (in mainstream cars at least.)
There are metres of soft leather, a curving, two deck dash with large screens in the console and in front of the driver complete with virtual instrumentation.
The style is classy and understated with an alluring blend of soft and hard surfaces and fascia.
All the controls are easy to use and there is a modern lounge aesthetic to the overall interior feel.
Rear seat legroom is good in the SWB, generous in the LWB which features a massage function along with adjustable seat position in the back.
Full connectivity is provided and an out of this world audio system.
Features
40 Safety and assist systems
Powerful and efficient V6 engines
Mild hybrid performance booster
ASF lightweight chassis/body
Lidar control to adaptive cruise (just like the cop's speed guns)
All wheel steer option
Engine stop/start
Air suspension
Eight speed auto
Quattro AWD
Beyond premium B&O audio
Drive and Engine
I had a chance to sample both the diesel and petrol engines in short and long wheelbase and as expected all are silky smooth though some engine noise is evident when you exercise the right foot.
Both engines have plenty of performance and actually give a sporty feel when you select the right drive mode.
The 2019 Audi A8 is a big, big car so pure mass tells against it in this regard.
Adaptive air suspension sorts out all road irregularities like they weren't there and the drive feel is positive but slightly remote.
Fuel use is less in the diesel which also delivers stronger roll on acceleration.
Those big wheels provide plenty of grip for cornering and braking and the quattro system does the same for power delivery.
It's a sweet thing to drive wafting along in a luxury cocoon and would be superb over a long interstate haul.
Safety
With so may safety systems and features, the new A8 is quite possibly at the forefront of current car safety technology.
Some Volvos might be up there with it but the Audi has gone to a new level with LIDAR radar control that will allow dead accurate level 3 autonomous driving when it's available here.
Forget about 5-star ANCAP, this car goes beyond that.
Even the laser headlights offer twice the visibility distance compared to anything else on the market with lesser lights.
All the expected safety features are included like reverse camera, 11 airbags, blind spot warning etc. You couldn't be safer in a car if you tried.
Good Bits
Like the diesel's torque and fuel economy
Silky eight-speed auto
Mild hybrid saves fuel
Lounge like interior for four
Large boot
Sumptuous ride from air suspension
Monumental audio system
Safety of quattro AWD
Laser lights a huge advance in night driving safety
Not So Good Bits
Derivative styling, you could be in an A6
Bulk tells against it in some circumstances
Massage function…. really?
Possibly too many luxury features. What else could they cram in/invent?
What's it worth in two years?
Summary
This sort of car is not really my cup. You get one to sit in the back seat so you aren't really a "driver" in the biblical sense.
Chauffeurs will love them because they will be in a swanky work environment all day. Lucky them.
One important note is that the Audi A8 ushers in technology that will filter down to other Audis soon. Big tick for that.
Facts and Figures: 2019 Audi A8
Engines: 3.0-litre, twin turbo V6 petrol 250kW/500Nm and 3.0-litre turbo diesel V6 with 210kW and 600Nm. Both have mild hybrid electric boost system.
Transmission: 8-speed auto AWD
Safety: Five-stars
Origin: Germany
Warranty: 3 yrs/unlimited km
Price: from $192,000