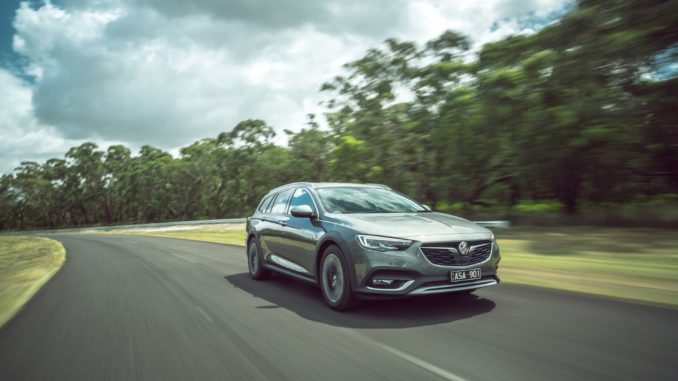 I'm not prepared to be dragged into the Commodore yes/no argument so I'll focus on this specific model … Holden Calais V6 Tourer – possibly the best version of German-built ZB Commodore.
German built?
Well almost, because it gets a strong, US-made, 3.6-litre, V6 petrol engine carried over from previous Commodore turned sideways in the engine bay along with a clever all-wheel-drive system  called "Twinster" because there isn't a conventional rear differential as such, just a gear drive with a clutch each side.
A big beast, Calais Tourer is one step down from the Calais V model at a considerable saving.  I will admit to being surprised at the test car's $45,990 pricing because many small/medium SUVs are  over this mark.
The Calais Tourer represents much more car for the money than one of these hatchbacks on stilts.
It's on a slightly raised suspension with semi-tough body add-ons giving it a "Subaru Outback" flavour.
And there's a 9-speed auto transmission to keep it on the boil.
The styling?
Nondescript is the best I can think of as ZB Commodore almost disappears into the crowd, even this higher spec' model with big wheels and more of a luxury aura. A more distinctive appearance would have perhaps put it on more wish lists.
Oh, well…..
Exterior
As mentioned above, Commodore could do with more visual appeal in the face of some pretty sexy competition from a number of quarters.
It's in the old school, long and low wagon idiom with a low arcing roofline, narrow glass house and intricate side creases giving the profile more depth. There's a neatly integrated tailgate spoiler and subtle wheel arch spats over 18-inch alloys to create the required semi-off-road appearance.
The generic looking front could be off any number of cars including other Holdens but is too bland for my liking.
The rear is a much better effort having a Merc' shooting brake appearance with tail lights duplicating headlight shape and dual rectangular exhaust apertures in the bottom of the bumper.
But when you park this car next to Ford's Mondeo wagon, they look like brother and sister.
Interior
Inside is a better effort thanks to the European (German) influence. You could be in any number of mid-level German (or French) cars with a neatly integrated and smooth dash curving into the top edges of each front door.
The large central touch screen dominates and instruments in front of the driver are fairly standard analogue dials.
Calais gets a wireless phone charger which is a bonus and all instrumentation is easy to locate and to use.
Apart from the centre rear pew, the seats are large and comfortable in this case upholstered in soft leather.
I really like the heated front seats and alloy pedals on this model.
It's a roomy space with a big load area expandable with folding rear seats. Due to the car's length and long wheelbase, it forms a very large platform big enough for two to comfortably sleep in.
Features
As the penultimate Commodore, Calais Tourer is well endowed with goodies like;
Holden's excellent MyLink infotainment system
Leather
Power operated, heated front seats
Premium audio
Power tailgate
Remote start
Head up display
Park assist
Wireless phone charger
Active fuel management (cylinder deactivation)

Drive and Engine
No complaints here at all thanks to the potent, high tech, 3.6-litre, V6 petrol engine that cranks out 235kW and 381Nm on 91 regular petrol.
There's the new and silky smooth 9-speed auto transmission and clever al-wheel-drive system to think about too… all combining to deliver an impressive dynamic package in this new Commodore.
The engine is similar to the previous Commodore with minor changes and it bestows this particular model with strong acceleration and easy cruising along with a towing capacity of 2.0 tonnes. Fuel economy can be on the high side though with Holden claiming 9.1 but I saw 10.6L/100km in general driving.
The all-wheel-drive system activates on an as needed basis but can't be locked in as is the case with some other brands with on demand AWD.
Ride and handling are engaging for a heavy carry all with drive feel a touch sporty though at 1715kg, the Calais Tourer is lugging a lot of lard. The upgraded FE2 suspension helps.
Minimal noise intrudes into the cabin apart from when full acceleration is used when you can hear the V6 wail.
Calais Tourer comes as a pleasant change from possible SUV competitors as it's more car like in every respect including seat height, ride and responses.
Safety
Five stars here thanks to the strong chassis and a full suite of driver assist technology.
In addition to desirable all-wheel drive, Calais Tourer has advanced autonomous emergency braking with pedestrian and cyclist recognition, following distance indicator, genuine hands off parking assist, lane departure warning, annoying lane keeping assist and blind spot warning to name a few features.
Plenty of secondary safety features too like the large rear view 360 degree camera and screen, auto LED headlights and auto wipers.
Good Bits
Roomy cabin/ Comfortable ride and handling
Clever all-wheel drive not an SUV
Generous luxury and safety features
Not So Good Bits
Some pessimistic advanced driver assist functions
Can be thirsty
Bland styling /Space saver spare

Summary
I don't mind the Calais Tourer but would I buy one? Maybe.
It has a decent tow capacity and large load space, a car-like drive feel and large capacity, non turbo petrol engine.
It's just the styling that puts me off a tad.
Also Look At
Facts and Figures: 2019 Holden Calais Touring AWD
Engine: 3.6L V6 petrol producing 235kW/381Nm
Transmission: Nine-speed automatic
Warranty: 7 years/ unlimited km
Safety: Five stars
Origin: Germany
Price: from $45,990 MLP*
*MLP – Manufacturers List Price includes GST and LCT but excluding statutory charges, dealer costs and dealer delivery. See your dealer for RDAP. Does not include price of any options.
Holden Calais V6 Tourer
Summary
I don't mind the Calais Tourer but would I buy one? Maybe.
It has a decent tow capacity and large load space, a car-like drive feel and large capacity, non turbo petrol engine.
It's just the styling that puts me off a tad.