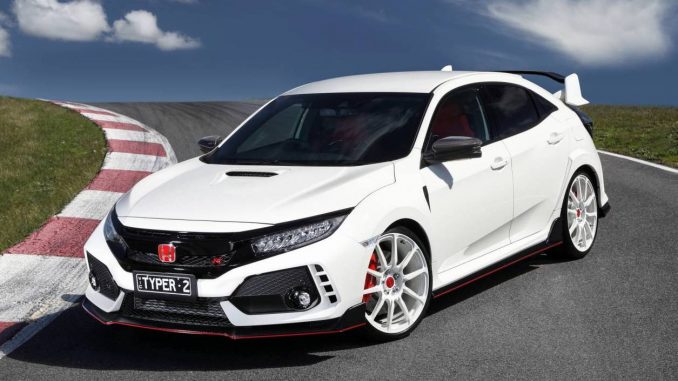 I have said it before and will say it again, Honda's latest Civic Type R is THE best front wheel drive hatch ever, full stop.
Yeh, yeh Renault's Megane RS is pretty good and there are other decent front drive cars around  like the i30N and Golf GTi but none comes close to the generation 5 Type R for performance, handling, control, startling looks and drive feel.
It's that good.
The wild looking Pom still struggles a bit when you drop the hammer around a tight corner but the helical front limited slip diff' and tricky multi axis suspension mostly take care of any tendency to torque steer.
Honda is "gilding the lily" with its Carbon Type R that adds around $24,000 to the bottom line making a fully equipped Carbon a tad under $75 grand. Wow, that's one expensive Honda Civic.
But it stops people in the street with those lurid looks, big wing and white painted 20-inch forged alloys along with assorted red fleck carbon fibre trimmings.
No, I wouldn't bother with the extra spend because the Type R is an impressive piece of kit in "standard" form featuring a swag of luxury, safety and go-fast bits for the $51K ask.
But some people are nuts about their Type R and wouldn't flinch at coughing up for the full Carbon treatment.
It's good to know there are still deeply committed enthusiasts out there in car-land.
Exterior
Civic Type R is nothing if not prominent on the street. Ya can't miss 'em.
But the Carbon takes it all to another level.
It's all add-on stuff starting with a large $2900 rear wing featuring a carbon fibre blade.
The carbon fibre continues with other exterior garnishes including the rear under bumper diffuser topping those triple centre mount exhaust tips.
The mirror caps have carbon covers and those 20-inch forged alloys are in stark white at a cost of about $14,000 alone.
Dunno, I'd probably get a set of those slick looking Enkei RPF1 alloy wheels and have them painted white for a couple of grand all up.
But the Carbon is a stunning looker that really does stop people in the street and garners admiring glances from other enthusiast drivers.
Even ignorant punters want to know what it is…
Better yet is the fact that all those add-ons have a positive aero effect on this fast, fast car.
Interior
The inside is not as wild looking as the outside but is still arresting and ultra-cool with carbon inserts to the dash, door trims, door sills and gear stick surround. Apart from that the Carbon is the same as the standard version Type R  featuring heavily bolstered front seats in a suede/leather material, a centre mounted control screen and a chunky sports wheel.
There are neat sporty touches like metal covered pedals and the test car had red upholstery which really set off the white exterior.
It's a four seater with a decent boot and adequate room in all measurements for all occupants.
The ambience is sports luxury that seems a step up on lesser Civics.
Features
"Genuine" parts used
Three drive modes
HondaSensing driver assist technology
Aluminium bonnet
LED lights all round
Cap less refueller
Drive information interface – boost, g forces, shift lights etc.
Short throw gearbox
Button start
Climate control, premium audio etc.
Drive and Engine
Out of a US factory, the Type R's 2.0-litre, direct injection, turbo petrol engine has the full suite of VTEC machinery operating on valve lift and timing as well as a close coupled single scroll turbo. The cams are chain driven for longevity while critical internals are forged steel or aluminium including rods, pistons and lightweight crankshaft. The cams are hollow to save weight.
At 23 psi boost, it's good for 228kW and 400Nm – not bad for a high revving 2.0-litre.
All this translates into a rapid drive feel off the line and all the way through to redline.
The short throw manual 'box allows quick gear changing and there's a rev matching function blipping the throttle when you are slipping down a cog from high revs/speeds.
Super sharp steering is delivered by a dual pinion system that puts two gears on the steering rack instead of the usual one.
It makes the Type R fairly hook into corners and gives it razor sharp reflexes at all speeds.
Firmish suspension befits the Type R's purpose and those huge 350mm front Brembos make light work of stopping the 1393kg Type R.
However there is still a tendency to torque steer if you plant the foot too hard coming out of a corner and the car's exhaust note is OK… could be crisper and a bit more in your face (or should that be ear).
As a package, it's no wonder the Type R clocked a rapid time around the fearsome Nurburgring race track in Germany.
It ticks all the boxes right down to having soft compound tyres.
Safety
Five stars all the way with a comprehensive array of driver assist technology and Honda's super strong chassis configuration.
But this car is so sharp a half decent driver would likely be able to avoid a collision in the first place given a flick of the wheel and a dab on the brakes.
Thankfully, the driver can choose to de-activate much of this electronic modulation for track work.
But out in the jungle of everyday driving, you need everything on your side and in this area the Type R delivers.
Good Bits
Stunning looks
Strong performance
Slick steering and gearbox
Monumental braking power
Well featured
Generous driver assist technology
Honda's legendary engine technology in full flight
Affordable in standard form
Not So Good Bits
Needs a more resonant exhaust note
Can drink heavily
Some torque steer at the limit
Some driver select functions reset to nanna mode on switch off
Wing can be a distraction
The left mirror projected image is superfluous
Summary
Love this car and the white really stands out.
Would I pay the extra $24 grand for the Carbon stuff?
Nope.
I'd selectively fit high performance components of my choice at a fraction of the Carbon package price.
I'd love to drive one on the track to see how it stacks up against the i30N and Golf GTi. On the road it's a stand out winner.
Facts and Figures: 2019 Honda Civic Type R Carbon
Engine: 2.0L four-cylinder turbo petrol producing 228kW/400Nm
Transmission: Six-speed manual
Warranty: 5 years/ unlimited km
Safety: Five stars
Origin: UK
Price: from $74,000