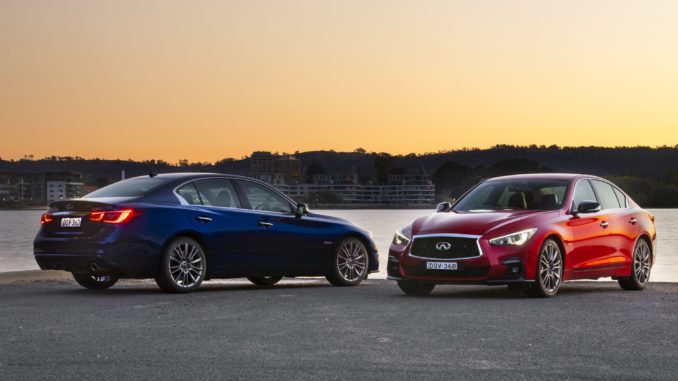 Though flying well below the radar, Infiniti's Q50 Red Sport is arguably one of the better premium compact sedans available and that includes contenders from Japan and Europe.
It's been around for a few years but still looks impressive parked on the street and is possibly the performance leader of the pack with a 298kW/475Nm, twin turbo, 3.0-litre V6 petrol under the bonnet driving the rear wheels.
Compared to some of its darn ugly rivals, Q50 looks the business with a wide grille, low, flat bonnet, punched out guards and a sporty stance. It's not what I call "try hard over-styled" like many cars these days.
The interior, especially around the infotainment area, is showing its age but Infiniti addressed that by adding a second screen with a recent upgrade.
The car is a hoot to drive with rear wheel drive, all that power and well sorted dynamics contributing to an engaging drive feel.
It bristles with technology including adaptive suspension and steering and was one of the first cars to offer a suite of advanced driver assist technology, in this case, well resolved.
Weighty at nearly 1800kg the Red Sport's powerful engine makes light work of the bulk and can still return an acceptable 9.3-litres/100km.
The only real issue I have with this car is resale. Buying an Infiniti anything is taking a punt on a brand that has little traction in this country.
Exterior
The Q50 has a familiar premium Japanese look to its flanks to the point where if you changed a few badges and added an ungainly spindle grille, it could be something from Lexus.
But look a little closer and the Q50 has some neat design details like the recurving C pillar at the back of the arcing roof, the wide, low bonnet and neatly notched boot with a traditional sedan profile.
Call me old school but I find the more conservative styling of the Q50 easier on the eye than plenty of newer designs. Some have become downright hideous.
Infiniti filled the subtly flared wheel arches, hunkered down the ride height and fitted some fairly angry looking LED lights front and back.
Q50 has a degree of on road presence but you can miss it if you're not paying attention.
That can be good or bad depending on how far your foot is pushed towards the firewall.
Interior
Once again, fairly generic premium Japanese this time with quilted leather seat bolsters and swatches of shiny metal fascia…. but not too much.
The dash links in a broad curve with the front door trims and the two front seats seem to each form a passenger pod with the driver's side most definitely in cockpit form.
There are app driven functions on the lower screen and a multi-function control knob aft the gear selector.
Instrumentation is conventional, sexed up with some colourful displays.
Access is good through all four doors but the big sunroof pinches a slice of headroom.
Q50 Red Sport gets the full comfort treatment that includes electrically adjustable front seats and premium audio.
There's paddle shift on the multi-function wheel and the infotainment system has voice control and other handy tricks.
Nissan, oops, Infiniti cut interior noise here with active noise control through the Bose.

 Features
As top of the range Q50 the Red Sport scores plenty of kit like;
SUNA satnav
Bose premium 14 speaker audio
Twin info screens
Power 10 way adjustable front seats
Dual zone climate control
Panoramic sunroof
Leather upholstery
Keyless entry and start
19-inch alloys
6 drive modes

Drive and Engine
Copious power comes from the 3.0-litre, direct injection, twin turbo, petrol V6. It's a vast improvement on the old 3.5/3.7-litre V6 Nissan and Infiniti used for years.
Smooth and potent, this compact, high-tech donk, running 14.7 psi boost pressure, cranks out a hearty 298kW and 475Nm to put away a 0-100kmh sprint in the low 5.0 second bracket, perhaps quicker though the 1784kg bulk would dent that somewhat.
It drives the rear wheels through a sweet shifting 7-speed auto pinched from Mercedes-Benz I would presume.
There's a barely audible rasp to the exhaust note when you're up it for the rent but otherwise no noise to speak of.
They gave the Q50 decent adaptive suspension too with double wishbones up front and multi links at the rear.
It basically changes calibration as needed depending on the road surface and the manner in which the car is being driven. Alternatively, you can dial up a preferred drive mode that affects numerous dynamic functions on the car such as steering, suspension and transmission.
Red Sport has sharp reflexes if you choose and can also be driven in a cruisy "soft" mode with other options in between.
On a good flog along my favourite stretch of road, the Red Sport acquitted itself well offering up precise steering with plenty of feel and awesome brake power from those big discs.
When you think about it, the Infiniti Q50 Red Sport could have formed a good basis for a current generation Supercar.
Too late now.
Safety
Five stars all the way but much, much more with the Q50 at the forefront of advanced driver assist technology when it first appeared back in 2014.
You know the drill….. active lane control (hate it), forward collision warning, around view moving object detection, autonomous emergency braking, adaptive headlights, auto high beam, adaptive cruise  etc etc.
But the Red Sport's responses will aid collision avoidance in their own right provided the driver is ''in the moment'' and not mentally adrift in cyber space or phone fiddling.
S'pose that applies in a lot of crash scenarios doesn't it?
Good Bits
Goes like stink and Engaging drive feel
Smooth and quiet, easy to drive
Generous amount of luxury kit and advanced driver assist tech'
Not So Good Bits
Looks a touch generic Japanese
Resale
Needs better warranty
Summary
I am going to stop bagging Infiniti and stop predicting their demise in this country because this car is a cracker. It deserves a go and go it most certainly does.
The price is more than competitive against comparable cars some that aren't within a bulls roar for performance.
Yep, if the company was paying, I'd have one.
Also Look At
Facts and Figures: 2019 Infiniti Q50 Red Sport
Engine: 3.0L V6 turbo petrol producing 298kW/475Nm
Transmission: Seven-speed automatic
Warranty: 4 years/ 100,000km
Safety: Five stars
Origin: Japan
Price: from $74,900 MLP*
*MLP – Manufacturers List Price includes GST and LCT but excluding statutory charges, dealer costs and dealer delivery. See your dealer for RDAP. Does not include price of any options.
Infiniti's Q50 Red Sport
Summary
Though flying well below the radar, Infiniti's Q50 Red Sport is arguably one of the better premium compact sedans available and that includes contenders from Japan and Europe.