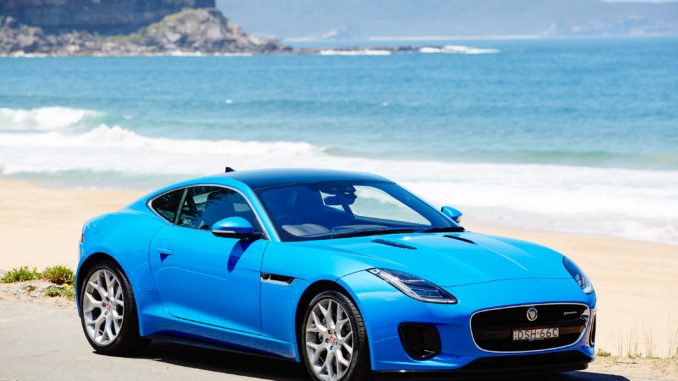 Late in 2018, F-Type got a subtle nip and tuck. Wheels and trim are in discernibly different but the cabin tweaks include Apple CarPlay/Android Auto in the new infotainment package.
We reviewed the first F-Type model HERE.
Exterior
Like most Jags, F-Type is made of lightweight aluminium. Despite that, the petite package comes in at a hefty 1525kg.
Taillights are LED. Using the signature Jaguar form, the slim lights are little more thin slits in the bodywork, and extend as far as the rear wheel arches.
Standard Xenon headlights have a $2510 LED upgrade on our test car. I'd expect those as standard. More of the expensive additions later.
The long bonnet and curvaceous body are vaguely reminiscent of its E-Type grandmother. That's where the similarity ends. F-Type is no flimsy pastiche.
F-Type is a hatchback but the opening is quite narrow. Although the boot is generous enough for a small sports tourer, anything big will still need delivering. A spoiler deploys from the rear lip of the hatch but is more for show than anything else.
The stylish coupe looks expensive and eschews the minimalist look some of the Germans insist on.
Wheels are 18" 10 spoke jobbies and although fairly small for a Jaguar, look enormous on this compact coupe.
Along with the standard blacked out grille, our car had a further $2250 spent on a black Exterior Pack to match the black paint job. It looks menacingly spectacular.
Interior
The bijou cabin wraps around the driver and the passenger.
Red seatbelts (+270) come with the Jet seats in leather. A further $2150 brings 12 way power adjustment, power steering wheel adjustments, and heated side mirrors.
The biggest thing you'll notice inside is the new 10" infotainment screen. Gone are the old fixed buttons flanking the old screen, replaced by virtual buttons along the bottom of the screen. The system now includes Apple CarPlay.
A built in grab-handle on the centre console is handy in spirited cornering and is clad in leather. Most surfaces are covered in similarly soft material, and any plastic feels solid and looks great.
The Jaguar app gives further control of vehicle function, and sound from the Meridian system is nothing short of spectacular.
You're cosseted in a cockpit with every dial and knob no more than a quick flick away. The only thing missing is a Heads Up Display.
Handy cup holders in the console sit just behind the switches for driving modes. There is a further switch for the dual-mode exhaust. It does nothing more than make the car louder. Don't be THAT person.
I've mentioned before that the boot space was tight, so we decided to test it, instead of complaining.
It turned out the boot is decent enough. Who'd have thought it. We managed 4 large carry-on sized totes. To further put our theory under strain, I managed to squeeze my fold-up electric bike in. It even swallowed a large 32" curved PC monitor box whole. The convertible remains
Features
F-Type has all the mod cons. There is blind spot monitor and lane keep assist.
Apple CarPlay/Android Auto is standard, with a 10" Touch Pro screen controlling the system. Sound via the Meridian speakers is sensational.
I was disappointed to find Rear Cross Traffic alert and blind spot monitoring are a $900 options. You also have to shell out $1060 for a reversing camera, $710 for front sensors, and $1200 for smart keyless entry.
If you can spare the extra, the options boxes are definitely worth ticking.
Of course there are automatic wipers and lights, but the driving assistance like lane control make longer trips less stressful.
There are drive modes to change engine and transmission characteristics, but the suspension is passive and remains as is. The 8 speed automatic has manual and sports modes, with paddle shifters, as well as modes for rain, ice, and snow.
Drive and Engine
The V8 and V6 engines were joined in 2017 by the i4 Ingenium engine. The small 4 cylinder turbo has more than enough power to propel you to 100 in just 5.7 seconds, with a top speed of 250kph. Fuel consumption is claimed at 7.2L/100k but the onboard system told us ours was closer to 9.7L/100k.
Steering is pin sharp. You don't have to have heavy steering to be sporty, if less effort is your thing. Ride is firm, verging on insistent. The chassis is rigid making for excellent handling. You can push through corners and as long as you keep the revs up, shoot out the other side like an arrow.
Paddle shifters and manual mode keep the 8 speed automatic in low gears, but the sport setting puts the car in to Dynamic Mode. The transmission holds gears at take-off, and shifts down when it thinks you're going to need extra torque.
We took the Jaguar for a weekend away. With the boot full of gear, there was still plenty of room for the little things that make life better. We had coffee and snacks on route, and kept the music going through CarPlay.
I'd planned the trip the night before we left, and sent it through to the phone. Next day all I needed to do was plug the phone in, and Google Maps knew exactly where we were going. Eventually we had to shift back to the inbuilt Jaguar Navigation  though. It's too fiddly trying to use maps from 1 phone and music from another. In fact, it's impossible.
When you're finished, you can put the system to sleep by pressing the STOP button. The Jaguar will put itself in PARK and activate the parking brake. The brake always activates when the engine is off and/or PARK is selected to prevent accidents.
Safety
There is no ANCAP for F-Type.
Each test costs around $1,000,000, so some low volume cars are not submitted. It isn't a reflection on their safety.
Aluminium construction adds strength and rigidity. As well as AEB, there is blind spot monitor with assistance, reversing camera with sensors and Rear Cross traffic alert (optional), as well as stability control.
The electric parking brake is activated when the engine is turned off as mentioned.
There is active lane guidance  which helps you stay within the marked lanes. The system turns off temporarily when the indicator is used.
Cornering is enhanced by brake assisted torque vectoring.
Good Bits: 
Stunning looks
Sharp handling
Spritely engine
Not so Good Bits: 
Firm ride
Expensive options
Spare tyre is optional

Summary
My previous reservations have been put to rest. The boot space can be used properly especially with soft luggage.
Driving position is superb, and performance stunning with decent fuel consumption.
The more option boxes you tick, the better your experience. Although the extra features can add up, many of them are essential.
I would prefer F-Type over the German offerings but there are features such as smart entry and rear cross traffic alert I'd like to be standard in a car costing more than a hundred grand.
Also look at:
Facts and Figures: 2019 Jaguar F Type 2.0R 
Engine: 2.0 L 4Cyl Turbo producing 221kW/400Nm
Transmission: RWD 8 speed Auto
Warranty: 3 Yr/ 100,000 km
Safety: Not rated
Origin: Thailand
Price: from $112,078 MLP* (as tested $123,848)
*MLP – Manufacturers List Price includes GST and LCT but excluding statutory charges, dealer costs and dealer delivery. See your dealer for RDAP. Does not include price of any options.
Jaguar F-Type
Summary
Jaguar F-Type – I would prefer F-Type over the German offerings but there are features such as smart entry and rear cross traffic alert I'd like to be standard in a car costing more than a hundred grand.