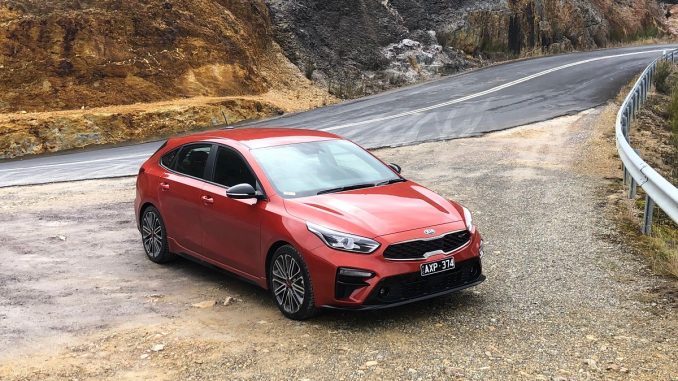 Over the past decade I have road-tested and reviewed every different Kia model and often each different variant available too.
It has been a great experience watching this brand come to life and become one of the top-selling car brands in Australia.
In January this year Kia entered the coveted top five selling car brands in our market (at the expense of Ford), this is a remarkable achievement given the brand doesn't have big-selling Light Commercial Vehicles (LCVs) like most of the other players.
Where the Kia product was once 'cheap and cheerful', the metamorphosis has seen Kia now offering vehicles with driving dynamics (i.e. performance, ride and handling) on-par with any of the other mainstream manufacturers.
And, remarkably, in the case of models like the new Kia Cerato GT, quality, fun and refinement that could match even more fancied rivals.
External
The Kia turnaround commenced when the brand hired former Audi designer Peter Schreyer. The respected German continues to work his magic with this new-generation Cerato.
I wasn't a huge fan of the look of the superseded Cerato, it was pretty non-offensive and perhaps a bit safe (especially compared to the generation it replaced), the new one though is more interesting to look at.
Still easily recognized as a Kia, the styling of the new Cerato hatch and sedan is certainly more dynamic, more aggressive and carries over a stronger look.
This of course all works well particularly on the sporty (or 'halo') model.
Interior
The interior of the 2019 Kia Cerato GT could be easily mistaken for a German car with design cues borrowed from manufacturers like Audi (the circular air vents for example), Volkswagen (the controls around the gear selector) and BMW (button feel and centre dash design).
Everything is simple, well-positioned and has a really nice feel.
My test-drive of the new Kia was across five days on the winding roads of Tasmania and I can say that even after long spells behind the wheel the seats remained comfortable and supportive.
An impressive JBL sound system also features in the Kia Cerato GT.
The only real complaint that I have about the new Cerato centres around the really chunky A pillars (so the pillars on each side of the windscreen) and the rear visibility (in the hatch version).
These solid and thick pillars no-doubt give the Kia improved body strength and contribute to the impressive dynamics, but you have to be cautious about what can't be easily seen from the driver's seat.
Features
Standard kit in the 2019 Kia Cerato GT includes:
18″ alloy wheels
Nine-speaker stereo
Sat-Nav
Digital Radio
Tilt and reach steering adjustment
Keyless entry and push-button ignition
Reverse camera
Front and rear parking sensors
Electric driver's seat
Heated/ventilated front seats
Sports steering wheel
Leather seats, steering wheel, gear knob
There's also a host of driver assist/safety gear like:
Autonomous Emergency Braking (AEB)
Collision warning
Adaptive Cruise Control
Blind Spot Sensor
Lane Keep Assist
Rear Cross Traffic Alert
Fatigue Alert
Perhaps the only feature that you might expect that isn't standard on the Kia Cerato GT would be auto headlights.
Also, expect to pay an additional $520 for 'Premium Paint' – i.e. anything but solid white.
Drive and Engine
As nice as the new Kia Cerato is to look at and to sit in, driving it is where you'll likely be most impressed.
The 150kW/265Nm 1.6 litre turbocharged engine propels the Kia along with better than expected enthusiasm and it sounds really good too.
In a nutshell, I don't think you're going to feel let down by the Cerato GT performance.
It's a shame there isn't a manual version available, that would be quite tasty, however the seven-speed auto accounts well for itself.
As mentioned, my time in the Kia was spent on the roads of Tasmania – a state where a straight piece of road is almost unseen, and the Cerato GT impressed.
The ride isn't overly firm, but the Kia handles really nice in the bends and feels solid, planted and refined (a feel not that long ago that would have cost you a whole lot more $s).
Really sharp steering is also a highlight (and a true sign of just how far Kia has come).
Performance and fun doesn't come with a hit at the fuel bowser – I averaged under 7L/100km.
And of course you have selectable drive modes available at the press of a button allowing you to set everything to your liking.
Safety
The 2019 Kia Cerato range, including GT, is covered by a five-star ANCAP safety rating, however, for the record, Cerato S and Sport get just a four-star rating due to these variants having just a camera-based AEB system.
Good Bits:
Ride and handling
Performance
Seats
Interior design/features
Value for money
Not So Good Bits:
Rear seat legroom
Forward 3/4 and rear visibility
Lane departure warning can be a bit intrusive
No manual version
Summary
I can be a difficult man to please and I not often walk away from a car feeling that I would happily own what I had just sampled.
The new Cerato GT though would be a car that I could happily live with. It isn't pretentious, it isn't over priced and it delivers more than you might expect.
The visibility from the driver's seat takes a little shine off and don't expect huge amounts of space in the rear.
Overall, I strongly recommend you see your Kia dealer for a test-drive.
Facts and Figures: 2019 Kia Cerato GT
Engine: 1.6 litre turbo-petrol producing 150kW and 265Nm
Transmission: Seven-speed auto
Safety: Five-stars
Warranty: Seven-years
Origin: South Korea
Price: Sedan and hatch from $31,990