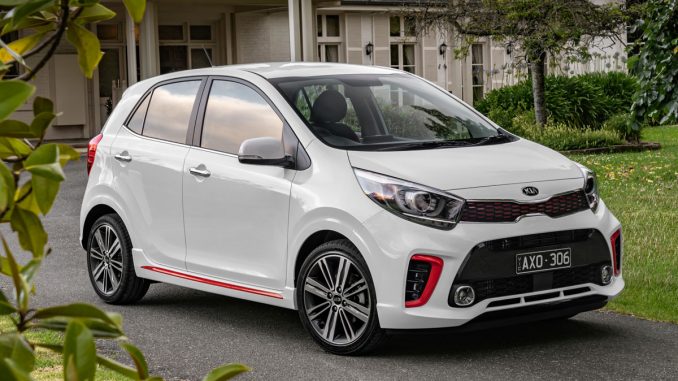 Nearly three years ago Kia introduced their micro car, the Picanto, onto the Australian market.
It was a model that was near the end of its product run having been sold in overseas markets including New Zealand.  It was launched here with only one variant, a normally aspirated four cylinder with a four-speed automatic gearbox.
Kia notes that there has been a "constant undercurrent of demand" for a model with a bit more zing.
A new model came out in 2017 but now they have launched the GT version.
It's a stretch to call a one-litre, three-cylinder car a GT, but the Picanto is a good package for a vehicle that costs $18,000 drive away.
Exterior
The external features of the car continue the stubby front and rear look, that is fitting for this class of vehicle because it is very small yet creates its own image rather than being just an awkward, scaled down version of a bigger car.
The larger 16-inch alloys with lower profile 45 aspect ratio tyres, add to the sporty image.  If you get a flat tyre, however, the image is diminished as the spare wheel is only for temporary emergency use.
The Picanto GT uses cleaver, simple, yet effective contrast body accents, twin exhaust, a body kit and GT badge to enhance its appearance. It is available in white or premium colours of silver, black or red.
Kia has achieved a stiff body shell with 44 per cent of the structure being made from advanced high-strength steels. The stronger steel has been used to strengthen the floor pan, roof rails and engine bay, as well as the A- and B-pillars.
Interior
The driver's seat has good adjustment providing leg room for large users in a way that quite a number of larger cars do not. It has a telescopic steering wheel so you get good room and a comfortable position.
As you would expect the leg room for the rear seat passengers is not huge, especially if the front seats are right back, but for the size of car the interior space is very credible.
The interior is brightened with red colour inserts on the front seats and some fancy panelling on the inside of the front doors.
The rear luggage compartment is small but you can fold the rear seats down in a 60/40 split.
The overall layout of the interior is basic but functional. It suits this small car in a way that is more fitting than some of Kia's larger cars such as the Cerato which has a similar layout albeit with better quality surface finishes.
The Picanto has a 2.6-inch instrument cluster with multi-function trip computer in front of the driver between the speedo and tacho. In the centre console there is a 7-inch infotainment touchscreen.
Like all Kia's at the moment. You do need to plug your smart phone in to get voice actuation through Apple Carplay or Andorid Auto.
Reversing is assisted with a rear-view camera and rear parking sensors and the Picanto has cruise control as standard.
Features
16" alloys
Low profile tyres
Body kit
Twin exhaust
7" touchscreen
6" instrument cluster
Apple Carplay/Andorid Auto
Rear view camera
Rear parking sensors
Cruise control
Drive and Engine
The little one litre engine works reasonably well without being a super-hot hatch.
You will not get punch-in-the-back acceleration and you will have to think carefully when pulling out from a side street onto a main road with a high speed limit.
Any overtaking move on a country road needs to be planned with some thought.
The suspension has been tuned for Australia and it allowed you to be aggressive with a good degree of confidence.
Changes to the steering mapping give a quicker response and enhanced stability when under load.
A great feature of this car is its 4.7m turning circle.  Prior to the launch I was testing a family ute which had a turning circle of 12.5 metres!
I know which one I'd prefer to go to the shops in and park each night at home.
Safety
The earlier Picanto models were crash tested in 2011 (the cars were sold in NZ but not Australia) and the next model was tested in 2013.  In both cases they received a five-star safety rating.
The most recent test on the latest available model, was in early 2018 and achieved a four-star rating.
The vehicle has not declined in safety it is just that the requirements to achieve a rating have been raised by the testing authority. This is a confusing aspect of the ANCAP testing.
AEB
Hill Assist Control
Vehicle Stability Management
Torque Vectoring Brake Based
Emergency stop signal
Forward Collision Warning and
Straight Line Stability
Good Bits
Great price
Good looks
Tiny turning circle
Not So Good Bits
Modest power
Fuel economy in real life may be relatively high
Four-star safety rating
Summary
Kia says its baby car has been given a "dose of attitude" with the launch of the GT.
If it does have attitude it is not an excessive swagger that speaks of an exaggerated opinion. The Kia Picanto GT is not an aggressive sports car but a perky little runabout with a sunny confidence, rather than having any in-your-face attitude.
With a driveway price of $17,990, and a seven-year warrantee it is easy to use, cheap to own and fun to drive.
The GT is a good package and will enhance the Picanto's position in a market segment where others have failed.
Facts and Figures: 2019 Kia Picanto GT
Engine: 1.0L three-cylinder turbo petrol producing 74kW/172Nm
Transmission: Five-speed manual
Warranty: 7 years/ unlimited km
Safety: Four stars
Origin: South Korea
Price: from $17,990