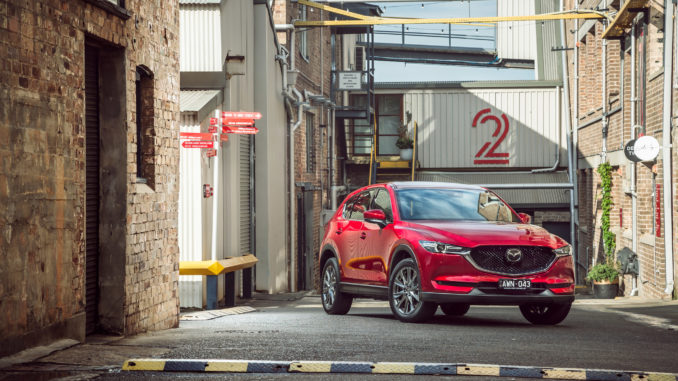 "Gilding the lily" springs to mind with Mazda's latest revamp to the all-conquering CX-5. They seem to crank out revisions every year or so, sometimes more often.
Styling was tweaked a little while back which, in my opinion is a mixed bag. I'm not a fan of the rear look, in particular the tail lights but the front and everything else is good.
The latest change last year brought with it Mazda's excellent 2.5-litre, turbo, petrol four cylinder engine out of Mazda6 and CX-9.
It runs on regular unleaded for an output of 170kW and 420Nm and is only available in 6-speed automatic, all-wheel drive GT and Akera spec' models.
The test GT sells for $47,890 and is all any normal person needs in an SUV.
The engine delivers strong performance and allows the GT to tow up to 2.0-tonnes.
If you put 98 in the tank, it will churn out more power, possibly as much as 185kW – not bad for a family five seater SUV with all the fruit.
Exterior
The front is stunning, I would go so far as to say one of the best looking frontal styling treatments around at the moment. The cheetah-style headlights (eyes) and integrated grille are just gorgeous. The snout looks intimidating and the overall lines across the entire CX-5 are clean and appealing. But the squinty tail lights look out of place compared with the larger units on previous models.
Mazda is perhaps trying too hard to differentiate each model upgrade.
It's a good size and sets a high benchmark in the medium, SUV segment.
The red paint is stunning but Mazda could upgrade their painting process to get rid of the orange peel effect that seems prevalent across their entire line-up.
Though six or more years old, the CX-5 still cuts it in the segment making even some newcomers and even more prestigious brands look pretty average.
Interior
Inside is standard Mazda issue reminiscent of the Mazda6 mostly. It's functional and easy on the eye with simple controls and generic looking grey leather upholstery and trim materials.
The design is highlighted by Mazda's excellent app driven Commander Control info screen with one control knob. Works a treat and is simple to use.
There are possibly a few too many style lines across the dash but is it a relatively old design.
The seats are generous and comfy and visibility is good in all directions from the driver's seat.
I really like the chunky, multi-function wheel with paddle shift and the decent amount of load space down the back. It's a five seater with easy access through relatively large top to bottom doors cut into the lower rocker panel.
The sunroof pinched a bit of headroom.
Features
As the GT is the penultimate CX-5 it doesn't miss out on much. In fact, you probably don't need to go all the way to Akera grade to get everything you want.
Among other things the GT gets:
Mazda's impressive MZD Connect infotainment system
Adaptive LED headlights
19-inch alloys
Glass sunroof
Auto tailgate
10 way power seat adjustment (driver) 6 way passenger
Heated front seats and exterior mirrors
Bose audio with subwoofer
Head up display
Traffic sign recognition
Dual zone climate control
Hardwired satnav
Drive and Engine
Plenty of poke comes out of the 2.5-litre turbo petrol four cylinder rated at 170kW/420Nm on regular unleaded. I put 98 in the tank and there's a measureable difference to how the CX-5 performs and it seems to use less fuel into the bargain.
Whatever, performance on 91 is not an issue as the CX-5 will show a clean pair of rears to most other cars. It's an on demand all-wheel drive, predominantly front wheel drive.
Boot it hard and the front wheels chirp before the rears kick in (too late).
This issue affects most AWD passenger cars with an on demand system.
If I was making the CX-5 it would be rear wheel drive with the fronts kicking in…. opposite to what it is. Fuel consumption on test hovered around the 8.5-litres/100km mark.  Somewhat on the heavy side but you have to pay for the performance and the GT weighs 1720kg which tells.
The cleverly designed engine has an on demand oil pump as well as direct fuel injection and a close coupled turbocharger to maximise efficiency.
They fitted `torque vectoring' selectively using the brakes to help steer (dunno why) and the ride has been softened a tad for more comfort. Having said that, the GT still feels responsive when you want to hook into some turns.
Some of the advanced driver assist technology is over sensitive to the point where it might go into panic mode when there really isn't a dangerous situation developing. Plenty of new cars are like that these days and it's a problem as far as I am concerned.
Safety
Five stars all the way, augmented this time around with even more advanced driver assist technology than before.
Mazda is nothing if not responsive to new safety technology.
This car gets the full suite including tyre pressure monitor, radar cruise, AEB with pedestrian recognition, driver attention monitor (wonder if it picks up phone use), high beam assist, blind spot monitor and (my pet aversion) lane keeping assist.
That's only the start.
It's as if car makers make cars these days for brain dead numpties who drive with their eyes closed.
Maybe they are right….
Good Bits
Impressive suite of safety tech
Strong resale value
Refresh ushers in revised interior
Not So Good Bits
Can be thirsty
Some over intrusive advanced driver assist tech
Slow high beam assist
Summary
I totally understand why this car is so popular in Australia. It ticks most of the boxes, is affordable, goes great, looks good, is worth good money on the rebound and would be reliable.
Can't see why you would bother with anything European or American, with the angst that often brings, when you could have one of these.
Also Look At
Facts and Figures: 2019 Mazda CX-5 2.5 GT
Engine: 2.5L four-cylinder turbo petrol producing 170kW/420Nm
Transmission: Six-speed automatic
Warranty: 5 years/ unlimited km
Safety: Five stars
Origin: Japan
Price: from $47,890 MLP*
*Includes GST and LCT but excluding statutory charges, dealer costs and dealer delivery. See your dealer for RDAP. Does not include price of options. Some features mentioned in the article are options.
Mazda CX-5 GT 2.5L
Summary
Mazda CX-5 I totally understand why this car is so popular in Australia. It ticks most of the boxes, is affordable, goes great, looks good, is worth good money on the rebound and would be reliable.