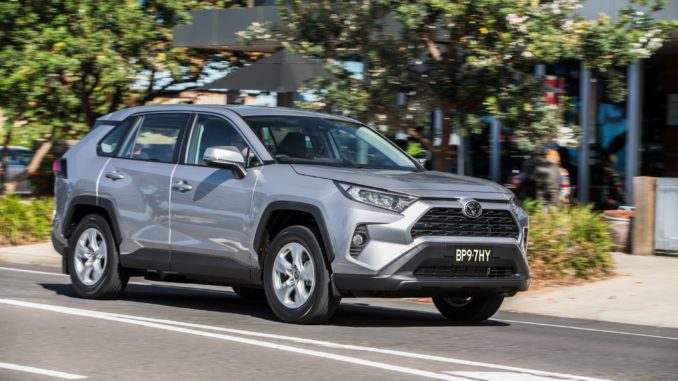 I was putting stuff in the back of the RAV4 GX hybrid and a pregnant woman rushed over urgently asking what the new RAV4 was like. She was in pre-baby, car buying mode and was seriously looking at a RAV4 of some denomination.
I told her to buy RAV4 with confidence because they are all good but go for the hybrid if you can because of its exceptional fuel economy and superior performance.
There are about 11 variants of the new generation RAV4 offering a choice of four grades, three engines and three transmissions in 2WD (front) and AWD.
It's possibly overkill but judging by initial sales, providing this much choice was the right thing for Toyota to do.
Focussing on the GX 2WD hybrid driven, it sells for $35,140 and is all you really need if the vehicle is just going to be an on road family wagon.
The powertrain, (engine and transmission) comes from Camry hybrid and is a cracker delivering strong performance and as little as 4.7-litres/100km fuel economy on 91. It uses a CVT "auto" to good effect with minimal slurring between "gears."
And as a new generation model, the latest RAV4, even this entry model, gets a full suite of advanced driver assist safety features.
Looks good too and is roomier than the previous model despite being shorter in the body.
I like it.
Exterior
RAV4 features Toyota's new global front styling similar to Hilux and other models but there the similarity ends. New RAV4 is quite angular like some of its Lexus cousins and is distinctive as a result. While much of the competition is still in a rounded, organic idiom, RAV4 has gone to another level with sharp edges down along the sides, over the wheel arches up into the roofline and across the tail gate.
It is functional and attractive even in base GX form with minimal bright body hardware.
The thin profile headlights make a statement and boast LED internals. Fairly generic looking 17-inch alloys suit the GX, especially under the wheel arch spats.
Only one thing, I'd hate to be a panel beater if a new gen' RAV4 came in with a whack in the rear three quarter area…..
Interior
Inside is standard Toyota fare with crossover components and styling reminiscent to other models in their range.
That means it's functional and easy on the eye, even in the base GX which has stepped up compared to the previous RAV.
There are better seats and cloth upholstery in a grey tone, multi-function wheel, large 8-inch infotainment touch screen and the load space is larger than before with two levels of storage if you run the standard space save spare.
Interior room is generous thanks to the longer wheelbase and higher roofline with seats for 5 inside.
Features
For the money, RAV4 GX hybrid is generously equipped. Toyota took the opportunity to really load up this new model with goodies like:
Dual zone climate control
Keyless entry and start
8-inch touch screen
SUNA satnav
Three driving modes
Heated exterior mirrors
Auto headlights and wipers
Comprehensive infotainment system
Drive and Engine
RAV4 GX hybrid uses a Camry hybrid engine and transmission meaning it's a 2.5-litre, petrol four cylinder with electric boost motors, battery pack  and a CVT auto transmission driving the front wheels in this case.
The combined engine(s) output is 160kW and something like 350Nm of torque on tap from the petrol and electric engines working in concert.
It goes really well providing decidedly sporty performance while sipping a minimal amount of 91 RON fuel. I saw 4.9-litres/100km without really trying for economy.
It makes diesel almost superfluous and is cleaner to boot.
You can barely tell when the electric drive goes into or out of play and the vehicle itself is virtually silent in cruise mode.
Ride and handling have been carefully calibrated to give comfort and control but the front wheel drive does have limitations when taking off uphill or when you boot it too hard from a stop causing the wheels to spin. The hybrid front wheel drive also has restricted towing capacity at 480kg.
As a general use vehicle that can't be taken off road, the RAV4 GX hybrid 2WD makes a handy family wagon.
You're up higher than a hatch and it has certain toughness more able to cop the rough and tumble of everyday driving.
Safety
Five stars all the way but with this new RAV4 Toyota has significantly upgraded safety at primary and secondary levels.
This model, the base model hybrid, scores what is called Toyota SafetySense which simply means camera assisted advanced driver assist technology like autonomous emergency braking and active cruise control along with a suite of other high tech safety features.
The new chassis is stronger than its predecessor by a longshot and other engineering safety advances have been brought to bear across the whole vehicle.
Good Bits
Surprising performance
Striking fuel economy
Comfortable ride
Not So Good Bits
Can't use satnav on the move
Intrusive advanced driver assist features such as lane keeping assist
Auto high beam is a pain – doesn't react quickly enough
Summary
I really like the new RAV4, just about everything about it apart from some of the issues mentioned immediately above.
It looks good, goes great and this model uses minimal fuel.
It will really put a cat among the pigeons in the ultra-competitive medium SUV category….with just cause.
Also Look At
Facts and Figures: 2019 Toyota RAV4 GX 2WD hybrid
Engine: 2.5L four-cylinder hybrid producing 160kW/350Nm
Transmission: multi-speed CVT
Warranty: 5 years/ unlimited km
Safety: Five stars
Origin: Japan
Price: from $35,140 MLP*
*MLP – Manufacturers List Price includes GST and LCT but excluding statutory charges, dealer costs and dealer delivery. See your dealer for RDAP. Does not include price of any options.
Toyota RAV4 GX 2WD Hybrid Review
Summary
I was putting stuff in the back of the RAV4 GX hybrid and a pregnant woman rushed over urgently asking what the new RAV4 was like. She was in pre-baby, car buying mode and was seriously looking at a RAV4 of some denomination.