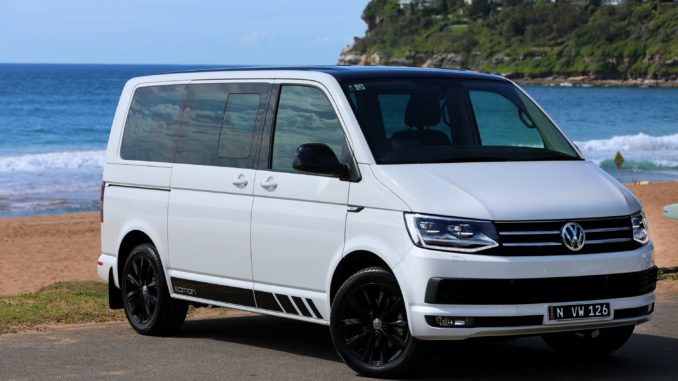 Multivan is the new Kombi. It is as flexible as the 1960's icon, but much more useable.
A limited number of 230 Black Edition models adds some tasty extras such as the cool timber-look rear floor, and comfy captain's chairs for the 2nd row.
Exterior
T6, or Transporter, is VW's multi-purpose van. It can be fitted out as a bus, delivery van, or camper.
The front end sports a neat set of LED headlights and DTRLs, along with fog lights and static turn lights. The latter come on as the front wheels turn and act like swivelling headlights.
It's hard to get a bus too look stylish, but Multivan has that same cool look that 60's surfers would love. It was fabulous then, and it is fabulous now. Black decals say "Black Edition" loud and proud. It matches the black 18" Springfield alloy wheels.
There are 6 colours (Cherry Red, Candy White and the $1720 metallics Acapulco Blue, Tumeric Yellow, Reflex Silver and Indium Grey) but white with black looks awesome.
Access via 2 sliding electric doors is controlled from the handles or key fob. That's handy for those who've had a big night out. The doors have opening sections in place of wind down windows. The rear tailgate is huge, and also power operated.
Multivan is set fairly high, so there are steps inside the front doors to help the front occupants look a little less dorky as they navigate entry and exit.
Black highlights continue on the side mirrors, and along the rear tailgate. I love the way it manages to lift a commercial vehicle, and gives it a cool twist.
Interior
The front seats have an SUV feel about them. You climb in as you would in a large SUV, and sit way above most of the traffic. It's a great place to take in the view.
They are power operated with 3 memory positions. It includes a lumbar function
Driver dials are conventional, but the dash is instantly recognisable as a VW passenger car. There a similar multi-function display you'd expect to find in an older generation Golf or Tiguan
The infotainment system is the older generation VW system. It comes with Apple Carplay/Android Auto. The is no DAB. TSK TSK.
All other controls are standard VW, such as steering wheel and centre console.
The centre console is high set, and holds the gear shifter. This is one of the few nods to the mini-bus roots of the Black Edition. You might remember this if you'd ever been subjected to rides in a 1970 Toyota Tarago.
The front seats have a carpeted floor, and the rear has a timber-look maple finish. 2nd row seats are Captain's Seats and can swivel to face the rear bench. Leg room might be a bit tight thought. There's an optional table that, with the right accessories, become an instant trendy bistro.
Seating can be moved or taken out completely. A clever clogs may even be able to fit the interior out for camping.
The cabin is comfortable, but I think I'd like a rug on the floor for a longer trip
You can get tricky little accessories like a fridge, but like most 7 seaters, you'll probably being doing shorter trips and tours. The boot is smallish considering the size of the van, so the fancy ever-changing seating plan will come in mighty handy.
Features
Seats that change position, clever rails in the floor to screw things to, and power operated everything, there are the essentials.
Driving a T6 would be a nightmare without the high quality reversing camera. The display shows the picture overlaid with data from the front and rear sensors. Front seats can have tablet holders mounted on the back side to keep rear passengers busy.
Swinging the captain's seats around allows a table to be used for brunch or busy meetings.
Drive and Engine
Transport, AKA T6 Multivan, drives like a bus, albeit a fun one.
Despite that, the 2.0L diesel still has enough poke to get the van along at a decent pace while still getting a decent fuel figure of 7.7L/100k.
103kw might sound modest, but 340Nm of torque has the grunt to move a fully loaded Black Edition with little effort. The diesel get a but raucous when you sink the boot in, but Multivan isn't the kind of vehicle you send around a corner at warp 9.975.
VW's 7 speed DCT (dual clutch transmission) takes all the effort out of driving. You can sit back and relax.
The driving position is slightly odd at first. You sit very high, with your feet above the peddles. You get used to it quickly, and it soon becomes fun. That's not usually a word you associate with people movers, period.
Ride is good most of the time. It is comfortable around town and would no doubt be even better with a full load.
Acceleration is more than acceptable, and cornering best described as leisurely.
Our week was spent doing city chores. There was an airport run, and some weekly shopping. Multivan is surprisingly easy to park. It has a reversing camera with excellent resolution and includes sensors.
Safety
There is no safety rating from ANCAP.
There is a full compliment of airbags, and stability control.
Some of the safety and convenience features are only available with certain engines so it might be worth a look at the features you want.
For example 4Motion AWD, adaptive Cruise Control, multi collision braking and AEB are only available on the 450Nm engine. There should be standard across the board.
Overall, the safety features list could be longer, especially for the price. ($15,000 more than Hyundai's equivalent).
Good Bits:
Moveable seats
Easy to drive and park
Space
Not so Good Bits:
No AEB on this model
Lacking some safety features
Price
Summary
People movers usually only succeed in moving most of us to a comatose stupor, but the Black Edition is both interesting and practical. Not only that, but it is fun.
It will appeal to someone who wants a bit of style. It competes against other 7 seaters with a more conventional shape such as many wagons and SUVs.
VW has made a real effort to harken back to the halcyon days of carefree beaching. I do wonder how difficult it will be to vacuum the sand out of the tracks the chairs slide in.
Also look at:
Facts and Figures: VW Multivan Black Edition
Engine: 2.0 L 4Cyl Turbo diesel producing 103kW/340Nm
Transmission: FWD 7 speed DCT automatic
Warranty: 5 Yr./ Unlimited km with 1 Yr. roadside assist
Safety: not rated
Origin: Germany
Price: from $63,990 DRIVE AWAY (August 2019)
2019 Volkswagen VW Multivan Black Edition
Summary
Multivan is the new Kombi. It is as flexible as the 1960's icon, but much more useable.
A limited number of 230 Black Edition models adds some tasty extras