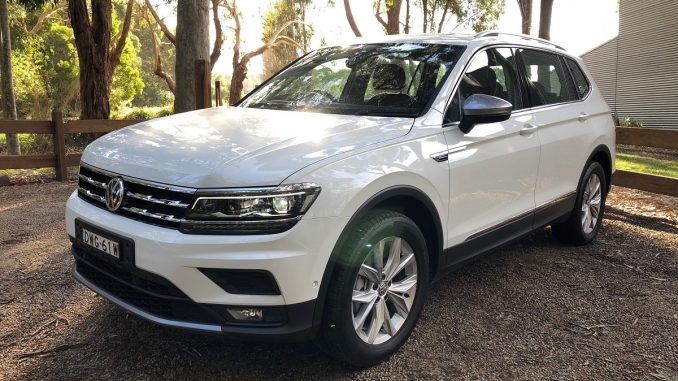 There's a new seven-seat option available to Aussie families with the launch of the Volkswagen Tiguan Allspace.
The new seven-seat version of the big-selling mid-size Volkswagen SUV aimed at users requiring 'occasional' seven-seat capacity, without shifting up to a large, shall we say 'full-time' seven-seat vehicle.
Think, "Can we give Joey a lift home from soccer?" type scenarios for this still snazzy looking, nice to drive and well-equipped SUV.
Key rivals include the Nissan X-Trail, Mitsubishi Outlander, Kia Sorento and Hyundai Santa Fe.
Both petrol and diesel engines are on offer, along with front-wheel drive and all-wheel drive, all variants get a DSG auto transmission as standard.
And the new Volkswagen is offered in two specification levels.
Exterior
The Volkswagen Tiguan Allspace wasn't an after thought, Volkswagen telling us the vehicle was designed at the same time as the standard five-seater.
It doesn't look like they just put longer doors and stretched the roof and floor either, the extra proportions work well on a vehicle that certainly looks more chunky wagon than boxy SUV.
The third row of seats required an overall length increase of 215mm, yes those rear doors are where most of the additional space comes from, but I reckon it still looks in proportion.
The seven-seat version also gets a different shape and design for the C pillar, this helps provide maximum window space for the last-row occupants.
Setting the larger capacity variant apart from the standard vehicle is a chunkier bonnet design (apparently to please the U.S. buyers who like a more solid look up front) and silver mirror casings.
Interior
Like the standard Volkswagen Tiguan the seven-seat version boasts an impressive feel throughout.
The front seats, even in the base model, have plenty of adjustment and good-sized bases meaning good under thigh support.
The middle row seat is firm, but there is good side bolstering on the base and on the seat back, though getting three full-size adults across will be a squeeze.
Comfort for the outboard seats in the mid-row boosted by a fold-down armrest with cup holders, there's also USB and a 12V power outlet, along with air vents.
Oh, and there's airplane style fold-up tables too as standard across all variants.
As for the third-row of seats, well there's plenty of headroom, but its the lack of knee and general legroom that will prevent adults from really being able to use seats six and seven.
A tick though for the access into the third row – the designers have provided a grippy little step that will help kids in and out, along with a roof-mounted grab handle that will also help.
While the mid-row seatbelts are tucked away nicely and this should help get kids in and out safely.
The Volkswagen designers have done well to still provide a fairly usable 230 litres of cargo space with the third-row seats in use.
Fold the third row down and you have 700 litres, fold all the seats down and there's 1,775 litres.
Long items are well catered for by the folding down function of the centre of the mid-row seat back.
There's two ISOFIX points on the mid-row seat.
If you're familiar with a modern Volkswagen you won't feel out of place in the Tiguan Allspace – all the main controls, gauges, infotainment is as you'd find in pretty much every other model.
Storage areas are adequately sized, including door pockets front and rear, there's a large sunglasses/odds and ends type storage area on the roof too.
One good addition is a space to store the rear cargo area blind – you'd be surprised how often a place to keep this rather awkwardly shaped thing when not in use is overlooked (especially in seven-seat vehicles).
Something that most people will use every day is the good-sized storage nook at the front of the centre console – drive a car without this area and you really miss it (especially for phone storage).
Another nice touch are front seat headrests that not only adjust up and down, but front and back as well.
On the downside though, as the photo above shows, I found when turning the volume knob I was accidentally brushing across the soft-touch buttons adjacent.
You really need to just grab the outer area of the knob to avoid this.
While as witnessed in other Volkswagen models, from the driver's seat you can't see the buttons to the left of the transmission selector (when in D).
These obscured buttons include the Auto Stop/Start and Park Assist buttons.
Features
Standard kit in the base model Volkswagen Tiguan Allspace Comfortline includes:
Electronic tailgate with Easy Open & Close
LED Headlights
18" alloy wheels
Keyless Access and start
Rechargeable torch in luggage area
Electric folding exterior mirrors
Autonomous Emergency Braking (AEB)
Reverse camera
Front/rear parking sensors
Auto headlights/wipers
Three-zone air-conditioning
Apple CarPlay/Android Auto
The Volkswagen Tiguan Allspace Highline adds:
19″ alloy wheels
Adaptive Cruise Control
Side Assist with Rear Traffic Alert
Electric front seats
Heated front and row 2 outer seats
Vienna leather upholstery
9.2" infotainment/sat-nav
Ambient interior lighting
LED tail lights
The only thing really missing would be digital radio.
Drive and Engine
I grabbed the keys to the entry-level Volkswagen Tiguan Allspace 110TSI on the Australian launch, we hope to bring you more detailed reviews of the other variants in coming months.
I can report that the 110kW/250Nm turbo-petrol engine with a six-speed DSG transmission and front-wheel drive is a better than adequate combo.
Initial acceleration is a touch dull, but it only takes a moment or two for the revs to build and then away you go.
It's a smooth powertrain too with none of the hesitation that I've found in some other Volkswagen models with the dual-clutch auto.
I thought the larger body and the added 100kgs plus weight might stifle the Tiguan's nimble handling – that isn't the case though, I drove the Allspace through some tight twists and was very impressed by the handling.
A nice ride and adequately quiet cabin are also highlights.
Visibility from the driver's seat is generally very good with A pillars that aren't overly thick.
While the larger windows for the third-row occupants help lift rear 3/4 visibility.
Safety
The seven-seat Volkswagen Tiguan Allspace joins the five-seater with a full five-star ANCAP safety rating.
There's some good standard safety gear, including airbags for all three rows and a safety system that will automatically apply the brakes if a hazard is detected to the rear of the vehicle when reversing (under 10km/h).
Good Bits
Not prohibitively expensive
Good on road manners
Nice feel throughout
Standard features
Not So Good Bits
Third-row seats really only for children (not surprisingly)
Too-sensitive buttons around infotainment
Summary
You're only looking at about a $3,000 price premium to have the potential convenience of seats six and seven.
Luckily, you don't have to trade away good looks, or driving dynamics to have the extra capacity.
There also looks to be a good spread of different engines available to suit the different needs/wants of buyers.
I can see the Tiguan Allspace being a good seller for Volkswagen, perhaps somewhat at the expense of the standard five-seat Tiguan.
Facts and Figures: 2019 Volkswagen Tiguan Allspace
Engines:

1.4 litre turbo-petrol producing 110kW/250Nm (front-wheel drive)
2.0 litre turbo-petrol producing 132kW/320Nm
2.0 litre turbo-petrol producing 162kW/350Nm turbo-petrol (same engine as Golf GTI)
2.0 litre turbo-diesel producing 140kW/400Nm
2.0 litre turbo-diesel producing 110kW/340Nm

Transmission: Six-speed DSG auto (110TSI), seven-speed DSG across rest of range
Safety: Five-stars
Warranty: Three years
Origin: Mexico
Price: Comfortline from $40,490, Highline from $52,990
2019 Volkswagen Tiguan Allspace