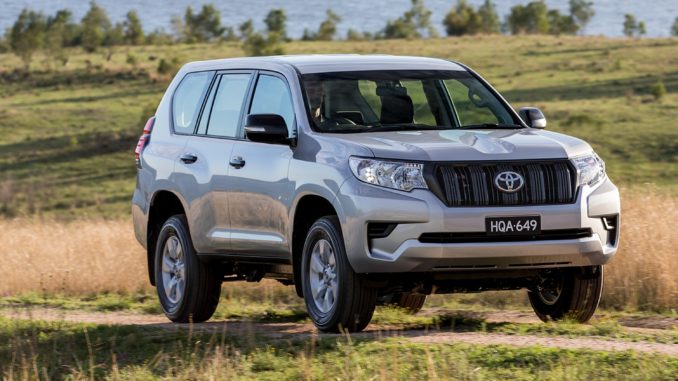 Toyota Prado is practically geriatric in automotive terms. In the 10 years since release, it has received the occasional attention of men in white coats.
Have the nips kept it modern?
Sort of. In 2015 the 2.8L Euro 5 diesel appeared.
This new diesel accounted for 98.8% of Prado sales.  As well as engine changes, Prado got extra safety and technology updates, with one omission, Apple Carplay, which remains an object of distant desire.
Our car is the GXL, which is 1 up from the base model GX, and feels it. We reviewed the Kakadu here
Exterior
Prado has a chunky look that leaves no doubt as to the family association with bigger brother, the LandCruiser 200 series. Viewed in isolation, Prado still looks good. However, pictured against other, prettier SUVs, not so much.
There are Bi LED headlights and DTRLs with high beam assist. Strangely, the Auto-On function is restricted to the top 2 models. GXL has 17" wheels which includes the full size spare.
And, that takes us to the first of the recent upgrades.
There is an option called the Flat Tailgate Pack.
This pack moves the spare wheel off the back door to underneath the rear of the car. That's great for access and makes opening the hinged door on hills much easier, especially when facing down a hill. It also allows for a glass hatch to be fitted. The glass hatch can be opened while ever the door is closed and allows small items to be placed directly into the cargo hold. This option is only available in automatic Prados.
It all comes at a price, but not the one you're thinking of. You see, Prado has 2 fuel tanks. The main tank is 87L and the smaller tank is 63L. This auxiliary tank is lost when the spare wheel is moved underneath.
The highset Prado has 219mm of ground clearance, with an approach angle of 30.4°, a departure angle of 23.5°, and a ramp over angle of 21.1°.
Interior
The cabin is functional, but for a car costing $59,990 plus onroads, is slightly disappointing.
Despite subtle nip-and-tucks over the years, the dash looks outdated, like its bigger LandCruiser sister. There is more than a touch of the 90's about it.
Comfortable leather seating has powered adjustments. All models have 7 seats with only the entry level car having a 5 seat option. The 3rd row is for height-challenged humans, as usual.
Instruments looks particularly old fashioned. Although it's all within easy reach, some of it feels a bit clunky. The centre console and centre stack looks particularly old fashioned. The large centre armrest conceals and a large airconditioned compartment. There is another small covered cubby hole under the climate controls.
The spacious interior is generally decent quality, but there is still a lot of cheap plastic. There is no real need to replace Prado completely, but the cabin needs a total redesign.
The boot is big enough to take my fold up electric bike and is not overly compromised by the 3rd row of seats.
Features
Infotainment uses an 8" touch screen. All Prados get navigation, but only the top 2 models get DAB with JBL speakers.
Although the sound is decent, there is no Apple CarPlay and you have to make do with Bluetooth or USB streaming. Toyota and LEXUS are slowly rolling CarPlay/Android Auto out, but it is taking a very long time for them to enter the 21st century.
Tri-zone climate control is standard on GXL, but heated/cooled seats are optional. The latter should be standard.
Off-road controls include: active traction control, rear differential lock, and hill start assist. 3,000kg of towing capacity is helped with Sway Control.
LED foglamps finish off the travelbility of Prado. You won't appreciate such things a cooled centre bin until you've been on the road for a few hours and need a tasty cold beverage.
Drive and Engine
A 2.8 turbo diesel powers all 4 wheels via a 6 speed automatic. The fulltime 4WD system shuffles power as needed, but low range gears, a clever diff, and locking hubs will leave the like of X3/X5, Q3/Q5 in the dust.
The 130kw performance is leisurely. You'll only notice 450Nm of torque once you try climbing out of a steep gully.
The common rail Diesel gets 8L/100k which extends to 7L/100k on the open road. Even with a bit of a load on, you would easily make the trip from Sydney to Brisbane with lots of juice spare.
Steering feels as floaty as the ride. This is definitely old-school technology. Handling is best described as "approximate". Prado is designed for off-roading unlike the AWD competitors
Safety
ANCAP 5 star rating is from 2011.
Since then, toyota added "Toyota Safety Sense" (Lane Departure Alert, Pre-Collision Safety System with pedestrian detection (AEB),5 Automatic High Beam and Active Cruise Control) as standard.
GXL falls behind the pack with Rear Cross Traffic Alert, Blind Spot Monitor, and front parking sensors being reserved only for the top model. Thankfully, a reversing camera is standard on all Prados.
Prado has hydraulic power steering so cannot have any of the cool active steering features like automated parking, active lane control, or active collision avoidance. All of these features need computer controlled electric steering.
All Prados have 7 airbags.
Good Bits:
Spacious cabin
7 seats
Full time 4WD + low range 4X4
Not so Good Bits:
6 speed auto
Lacking some safety features
Missing driver aids

Summary
Despite the dated interior and absence of driver aids expected in the 21st century, Prado remains one of Toyota's best sellers. It is the best-selling large SUV of any price, with 7,833 sales so far this year. That represents 17.8% of the market segment, up from 16.4% this time last year.
Toyota can't afford to rest on its laurels though. Prado desperately needs a thorough updating. Mitsubishi's 4WD Pajero is in the same boat, but manages a piddling 1,386 sales for the same period.
Subaru's AWD Outback is in place 2 behind Prado with 3,650 sales being 8.3% of the segment.
What that means is buyers want a 4WD car that is reliable, can be serviced anywhere, and can climb mountains with ease.
Also look at:
Facts and Figures: 2019 Toyota GXL
Engine: 2.8 L 4Cyl Turbo producing 130kW/4500Nm
Transmission: full time 4WD 6 speed Auto
Warranty: 5 Yr/ Unlimited km/ 7 yr roadside assist
Safety: Five stars (2011)
Origin: Japan
Price: from $59,990 MLP* (add $3,000 for automatic)
*MLP – Manufacturers List Price includes GST and LCT but excluding statutory charges, dealer costs and dealer delivery. See your dealer for RDAP. Does not include price of any options.
Toyota Prado GXL 4WD
Summary
Toyota can't afford to rest on its laurels though. Prado desperately needs a thorough updating. Despite the dated interior and absence of driver aids expected in the 21st century, Prado remains one of Toyota's best sellers. It is the best-selling large SUV of any price