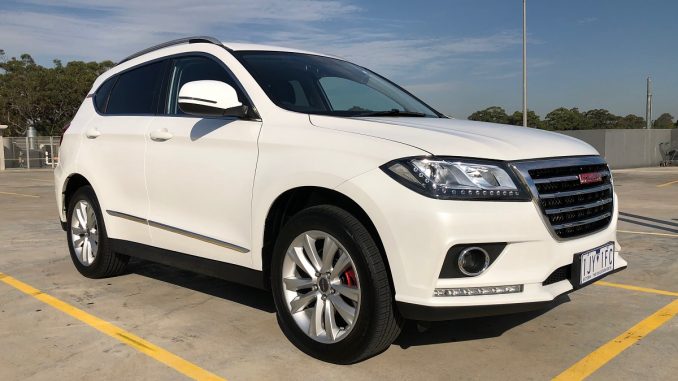 This wasn't my first time in the Haval H2, last year I had a jaunt in the small SUV through dense NT scrub!
Check out the details on that unintended adventure here.
This time around I got to put the baby Haval SUV to the test on my local roads, running my usual errands, picking up and taking kids to school etc.
It's a solid little thing, just the right size too, though a couple of elements need a little more attention from the Chinese manufacturer in my opinion.
Exterior
You would say the 2018 Haval H2 has reasonably non-offensive looks, I doubt anyone would be able to say they don't like the styling.
The little Haval badge on the C pillar is a nice touch and this helps give it some individuality.
Like that solid feel I already mentioned, the H2 has a robust look about it and I think that works better in the small SUV space than the more car-like designs of some of the competition.
Interior
The squarish design of the Haval allows for good interior space, you could sit three adults across the back seat in reasonable comfort.
Rear seat legroom is also surprisingly good and the boot is generously sized too (particularly for a vehicle in the small SUV category).
Generally speaking the interior has a better than acceptable feel, the seats, although firm, have generously sized bases and are comfortable enough.
The gauges are large and easy to read, while the driver info screen is also a nice size…the only disappointment is that you can't choose to display a digital speedometer.
The centre control area for heating/air-con etc. is basic and easy enough to use, interestingly though the Haval doesn't give you a temperature reading for the climate control, just different levels of heating and cooling.
The only really disappointment inside the H2 is the infotainment system. There's no Apple CarPlay/Android Auto and the system in my test car was a bit clunky and dated.
Haval has promised to beat the South Koreans on in-car tech, that being the case I think they need to spend the dollars and give potential buyers the latest and greatest, including those now proven and popular smartphone links.
While the four-speaker stereo is also a bit behind what you might be used to in a new vehicle in 2018.
Features
Standard kit in the entry-level Haval H2 Premium includes:
Reverse camera
Electric sunroof
Height adjustable drivers seat
Rear parking sensors
Cruise control
Auto headlights/wipers
Electric park brake
Push-button ignition
Leather steering wheel
While the top-spec H2 LUX adds (for an extra $2,000):
Six-speaker stereo
Blind spot monitor
Electric drivers seat
Heated front seats
Leather-look seats
Drive and Engine
The Haval H2 comes with just the one powertrain on offer – a 1.5 litre turbo-petrol mated to a six-speed auto transmission.
The engine produces 110kW/210Nm and provides acceptable performance for most applications.
Interestingly, Haval unveiled a new Euro 5 compliant 1.5 litre turbo-petrol engine producing 124kW/285Nm, as well a new seven-speed auto transmission at the recent Beijing Auto Show.
Hopefully we see that new engine/transmission in Australian Haval models soon.
I felt the turbo on the existing engine is set to kick-in too late – i.e. the turbo only gets to work at around 1,750rpm and that means the little Haval is initially sluggish while the revs build up.
While expect reasonable fuel economy around town in the low to mid 9L/100km range.
I already mentioned the infotainment system, the other area that the Chinese manufacturer needs to allocate some resources is in Australian tuning.
The South Korean manufacturers, Kia and Hyundai, have local teams who test new vehicles here before they go on sale in our market and are able to request specific suspension and steering tunes.
This has really helped those brands shed their cheap and cheerful tags and become highly-regarded among Aussie car buyers.
The Haval H2 is a little too tightly sprung for my liking (for Aussie roads), while the steering could provide more feel, and provide some more assistance when turning back to centre.
Safety
Both the Haval H2 Premium and LUX have qualified for a maximum five-star ANCAP safety rating.
Good Bits
Interior space
Solid look/feel
Standard features
Pricing
Not So Good Bits
Better driving dynamics required (ride and steering)
Infotainment/stereo system
No Autonomous Emergency Braking
No digital radio
Summary
The positives outweigh the negatives with this offering from Haval.
Good pricing, impressive interior space and the five-star safety rating make this a small SUV worth considering.
Haval is constantly getting closer to the competition, head office just needs to loosen the purse strings and get better infotainment systems and some local tuning happening ASAP.
NUTS and BOLTS – 2018 Haval H2
Engine: 1.5 litre turbo-petrol producing 110kW and 210Nm
Transmission: Six-speed auto
Warranty: 5 year/100,000km
Safety: Not tested
Origin: China
Price: from $24,990