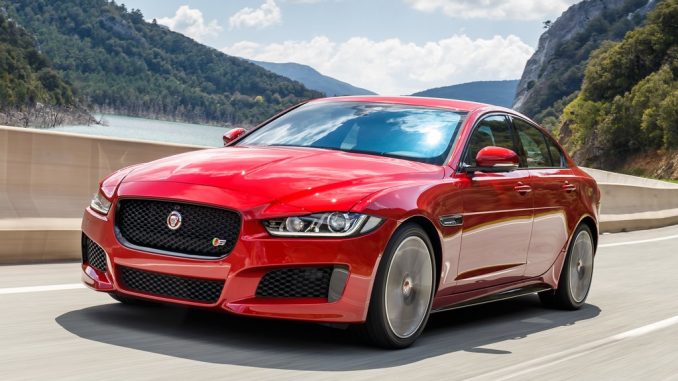 They've got to be joking, calling a car the XE S, why not drop the pretence and just call the gorgeous compact Jag sedan the SE X. That says it all.
It's the top of the line model in Jag's compact lineup and is arguably their best car all things considered – performance, style, dynamics, luxury, safety and feel.
Oh, and it sounds pretty awesome too thanks to the wailing exhaust note trumpeting from the supercharged V6 engine.
Exterior
Just like a scaled down version of the larger Jaguar XF, the 2018 Jaguar XE S has sports sedan touches including large black wheels and subtle chrome and satin chrome body highlights to set it off.
The slanting headlights have a feline look to them and the tapered rear end, particularly the tail lights, seem to say "p— off you pleb".
But the overall effect is glamorous and sleek and is streets ahead of XE's three main competitors; BMW's bland 3-series, the conservative looking C-Class Benz and Audi's derivative A4.
I wouldn't say the Jag has it over Lexus' IS though.
Interior
As you'd expect in a car starting at $92,700, the 2018 Jaguar XE S boasts a luxurious leather interior with neat chrome accents, dual view screens, a new infotainment system compared to its predecessor and decent audio.
An extensive options list allows you to pretty much tailor make your XE S with goodies like an 825 watt Meridian audio system, sunroof and upgraded dynamics system.
This also extends to additional advanced driver assist features.
There are seats for four, adequate space and a decent size boot.
Features
For the price you get a reasonable amount of standard kit like:
Configurable and adaptive dynamics
Jaguar drive control
Heated exterior mirrors
Approach lights
Auto wipers and headlights
Sports seats including 10-way electric front seat adjust
Dual zone climate control
Air quality sensor
8″ touchscreen with Bluetooth connectivity and streaming
Cruise control
Park assist
Keyless entry
More is optionally available.
Drive and Engine
Plenty of easily accessible power comes from the 3.0-litre, supercharged, petrol V6 engine that's lifted from Jag's F-Type sports car.
Good for 280kW and 450Nm it propels XE S from 0-100kmh in 5.0 seconds but the real strength is roll-on acceleration from medium speeds – when the supercharger makes its presence felt turning XE S into a real sports sedan.
Drive goes to the rear wheels through a slick shifting eight-speed auto.
The engine is smooth and quiet but in Sports mode, a raunchy note trumpets from the exhaust.
Dynamically the XE S is well endowed offering sharp steering responses and a firm but comfortable ride.
Corner grip is impressive and its matched by super strong, large diameter brakes that easily pull up the 1655kg Jaguar XE S.
A number of drive modes are available but we found Sport the best for most applications. Torque vectoring, which dispenses power to the wheel with most grip, further aids cornering and boosts safety.
Configurable dynamics allow fine tuning of the car's responses.
Safety
It's a five star ANCAP car and comes with a range of advanced driver assist features like AEB (Autonomous Emergency Braking), lane departure warning, 360 degree camera, parking aid with rear park assist and tyre pressure monitoring.
If you want more than that, start ticking the options box.
Just one more point on safety and that is the XE S has dynamics capable of getting you out of trouble in the first place. Better than relying on the car for crash protection.
Good Bits
Gorgeous styling
Superb engine performance
Gets 8.1-litres/100km
Plenty of luxury kit
Sounds awesome
Direct steering
Impressive cornering
Powerful brakes
Interior smell
Not So Good Bits
Expensive options
Space saver spare
Low front apron
Bluetooth sometimes has a mind of its own
Summary
Wow, an impressive effort from Jaguar. Would have one every day over any of its main competitors.
Engine performance is strident, sound is stirring, the drive feel very sporty.
Perhaps the only question mark is resale but when you are buying something like this, who cares?
Drive it, love it, pay the lease, be happy.
Facts and Figures: 2018 Jaguar XE S
• Engine: 3.0-litre supercharged V6 petrol 280kW/450Nm
• Transmission: 8-speed auto
• Safety: 5-star ANCAP
• Origin: UK
• Warranty:3 years/unlimited km
• Price: From $92,700