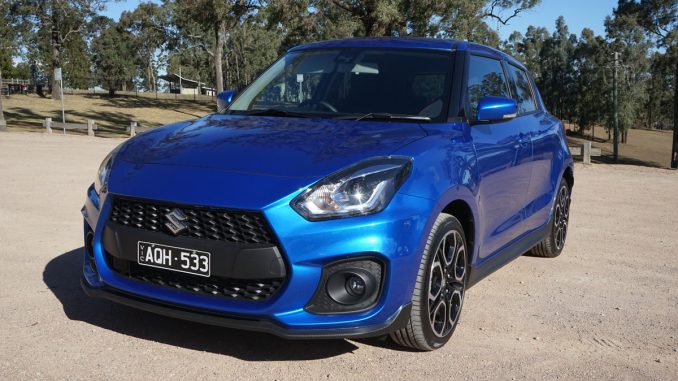 I've always viewed the Suzuki Swift as a compact, manoeuvrable and endearing little hatch, but it's always been a bit underdone in the power stakes.
The Suzuki Swift Sport however rectifies that, offering more bang for your buck.
A car this size is just to get from point A to point B for most, but why not have a bit of fun doing it?
You can hop into a manual Swift Sport from $25,490 or an auto, like I did, for $2000 extra.
Exterior
Not too different from the regular Swift bar the added body kit including a new grille and very sporty looking double exhaust.
The wheels are also upgraded to bigger 17" alloys.
Nonetheless, it retains the recognisable boxy Swift shape.
Close the door and you get a tingy sound, not the solid slam in other cars, but at least they're light.
Interior
The cabin is much of the same too with the main exception of sports bucket seats with red stitching on the fabric and embossed "Sport" logo up the top.
The rest is lined in hard black plastic which is simple and well presented with a few red lines on dash and doors.
Size-wise it's no different to the straight Swift in that the legroom up front is okay but limited in the rear and the boot space is tiny but still manageable.
Sitting in the cockpit you do notice that the windscreen is much further away from the occupants for such a small car giving a perception of spaciousness, which is quite smart design.
Features
Being an upper spec model, the Suzuki Swift Sport is equipped with its fair share of kit.
Touchscreen
Sat-nav
Apple CarPlay/Android Auto
Reversing camera
Push button start
6 speakers
Speed limiter
Digital climate control
D-shaped steering wheel
Tyre repair kit (no spare)
It's worth mentioning the Bluetooth connectivity in Suzuki vehicles which is one of the fastest I've encountered. The detection and connection are instantaneous which is more than I can say for some cars where there is a short delay or you wait an eternity for no connection.
Drive and Engine
The engine is obviously where the main difference lies between the Suzuki Swift and Swift Sport.
Performance has been turned up a notch from a 1.2 litre engine to a 1.4 litre turbo.
It doesn't sound like much but the extra power at over a hundred kilowatts and 230Nm give it that added zest.
This is how the Suzuki Swift should be: small, cute, dynamic and zippy.
While there is some turbo lag and a delay at the low end, but once it gets going the Swift Sport is a great little runabout perfect for city trips and manoeuvring through traffic.
The drive and ride are good with better steering than in some other Suzuki models thought it can waver a bit at speed down the freeway and there is a some slight tyre noise.
What is good about being small is the fuel consumption at 6.8L/100km and an impressive turning circle.
Safety
Autonomous Emergency Braking
Lane Departure Warning
Weaving Alert
Adaptive cruise control
Brake assist system
Good Bits
Power and vitality
Body kit
Fuel economy
Safety specs
Bluetooth connection
Not So Good Bits
Summary
It's a pleasant drive, rightly matched with an engine that provides more kick along with dynamism and a competent ride.
The Swift Sport offers functionality as well as important driver assist features. Not to mention it is reasonably priced and a fuel saver.
Basically, small, quick, attractive and well kitted out.
If I were to choose a car for my garage for the purpose of getting about town, the Suzuki Swift Sport would be my pick.
Facts and Figures: 2018 Suzuki Swift Sport
Engine: 1.4L four-cylinder turbo petrol producing 103kW/230Nm
Transmission: Six-speed manual or six-speed sports automatic
Warranty: 3 years/ 100,000km
Safety: Five stars
Origin: Japan
Price: from $25,490