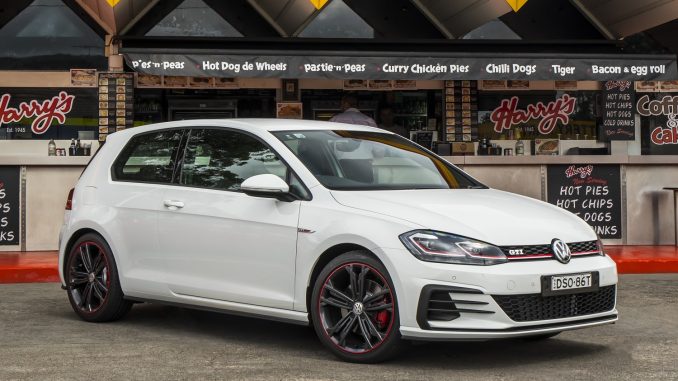 With the launch in Australia of their Golf GTI 'Original', Volkswagen is doing their bit to keep alive those aspects of driving pleasure, from the era that they kicked off with their first Golf GTI.
The first Volkswagen Golf appeared in 1974 and their first GTI hot hatch version in 1976.
This latest Original package has some good modern features and comfort but not all the latest technical wizardry for a car to assist (some say interfere) with the driver's role.
It creates a feeling of being in contact with the mechanics of the car in the way that motoring enthusiast love.
The Original is a three-door hatch which inevitably compromises accessibility for style. You are putting fashion ahead of function.
Volkswagen started importing the three-door Scirocco to Australia in 2012 but it did not do well and they stopped selling them in the second half of 2017.
According to Volkswagen the three-door Golf GTI has a better chance of sales success because it has its own 'construct'.
With the name plate of the second most popular car model in motoring history, it has a strong, well known image.
Exterior
Some three-door hatches can look awkward, as though they were a normal sedan that has a short tail that ruins the balance of the vehicle. The Original is not like that. It gives an image of poise and stability.
It has many features to make it look purposeful without looking tacky. These include: body coloured bumper bars and door handles; body coloured exterior rear-view mirrors (the mirrors were actually rather small though); exposed chrome exhaust tail pipes, left and right; and GTI Original nameplate on the tailgate.
Its outward appearance is heightened with 18" Sevilla alloy wheels which are dark graphite in colour with a red pinstripe around the rim and red brake calipers behind.
Interior
Inside there is a functional eight-inch infotainment system with App-Connect, rear view camera.  The interior is colourful and fun with tartan seat material.
Such a strong pattern is a reminder of the 1969 Monaro days with their "houndstooth" patterns.  The dash layout is not flashy but it has strong style and does enough without appearing 'over-the-top'.
The dials are well loud out with easy to read information.
The driving position is good but, as you would expect, the rear seat area is hard to get to and cramped.
Drive and Engine
The standard GTI engine works a treat in a car that weighs only 1,304 or 1326 kilograms, depending on the gearbox.  With 169kW and a very credible 350Nm it provides exhilaration when you give it full throttle.
On the twisting Macquarie Pass south of Sydney which has some corners signposted as low as 15km/h, it was in its element.
Second gear, for example, can go from crawling speed to the speed limit and so made the short sprints between slow corners a delightful exercise.
The six-speed dual clutch gear box is efficient and smart but to really enjoy a drive on tight country roads, the six-speed manual is the way to go.
Volkswagen intends to make you think back to the 1970s but I went back even further when I found myself instinctively double shuffling down through the gears.
Driving Performance
The top of the range four-door Golfs have outstanding handling with a turn-in to corners that is as sharp as a tack.
The Original does not seem quite as solid although it is still very good.  The front end did not appear to be as relatively firm in its grip and the tyres produced a little more noise.
It would be hard, however, to keep up with its top performing bigger brother which seems to have the grip that is above most driver's sense of danger.
In no way did we feel the Original was a poor handler but it seemed to need just a little more attention than its bigger sibling, which is actually the sort of motoring that keeps you close to and aware of the mechanics of the vehicle.
Safety
The Original has the usual array of air bags including driver and front passenger, driver and front passenger side and Curtain airbags. It is also good to see that it has a driver's knee airbag.
It has not forsaken some other modern safety features including City Emergency Brake, pedestrian monitoring and a driver fatigue detection system.
Safety devices such as blind spot monitoring are, however, only part of the optional Driver's Assistant Pack.
Good Bits:
Sweet Engine
You can get a manual gearbox
Stylish
Not So Good Bits:
Three-door is not as practical
Not the cheapest hot hatch
Some safety features are only an option
Summary
The 2018 Volkswagen Golf GTI Original shifts the balance back in favour of driver feel and less technical involvement from the car without compromising modern comfort, build quality and competitive pricing.
It is a joy to drive and looks the part, but has three-door impracticalities.
While it is not the cheapest hot hatch around it is good value for a Golf GTI which can hold its head high with luxury hot hatches.
Facts and Figures: 2018 Volkswagen Golf GTI Original
Engine: 2.0 litre TSI 169kW/350Nm
Transmission: Six speed manual or six speed DSG
Safety: Current four-door Golfs have a five-star rating (tested 2013)
Origin: Germany
Warranty: Three years
Price: from $37,490
2018 Volkswagen Golf GTI Original