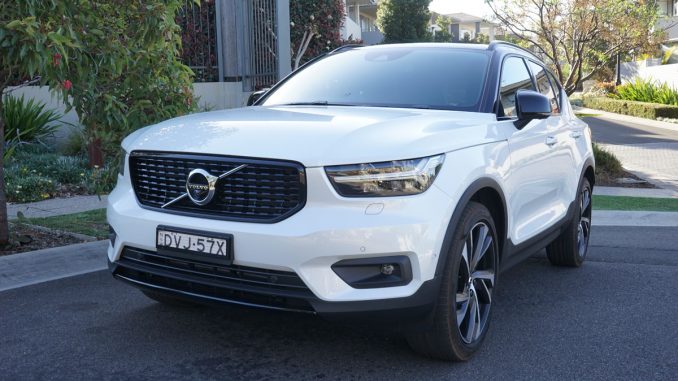 Volvo may have a small range but each new model is a jewel in their crown with another quality offering in the form of the Volvo XC40.
The preceding XC60 and XC90 SUVs have won praise and accolades from all quarters and it'd be no surprise if this smaller version follows suit.
I really enjoyed my week in the Volvo XC40 T5 R-Design and couldn't really find anything to turn up my nose at.
Exterior
The featured variant is priced at $56,740 and is fitted with a black top and black R-Design roof rails.
There's also an R-Design grille and at the other end integrated tail pipes.
In the middle of the grille is a big, bold Volvo logo that other drivers won't miss in their rear view mirror, and a front camera in the middle of it all.
All up the XC40 has a smart and distinguished look with nice lines, though the massive 20" double spoke alloys are what really stand out.
Charmingly, a little Swedish flag tag sticks out of the side of the bonnet just in case you forget where it came from.
Interior
And just like another brand from Sweden, Ikea, there is smart design on display in the Volvo XC40.
Aside from being technologically advanced, there are some quirky inclusions built-in to make life just a little easier (we'll get to those in a moment).
The dashboard is sparser than other luxury Euro cars with the large vertical centre touchscreen dominating the landscape. Operating like a smartphone, you swipe to navigate and access all functions and a single large button will take you home.
Silver trims highlight the black on black cabin enhancing the sophistication and the leather seats with velour insert have a tight fit and fine finish plus some excellent moulded headrests.
Even the doors have extra-large pockets with a carpet lining for some elegance and sound absorption.
In the boot is a nice big parcel shelf that actually has room to store stuff above it as the roof doesn't slope away as in some other smaller SUVs.
The storage area itself is pragmatic with decent space, a cargo net, elastic straps and a removable/foldable floor that can be propped up as an A-frame. Not only that, at the apex are three tags that serve as hooks to hang your shopping on.
Now that's clever.
Features
The Volvo XC40 T5 R-Design of course comes with a myriad of standard features and options including panoramic sunroof with mesh blind, induction phone charger, powered heated seats, a large, borderless rear view mirror, harmon/kardon speakers, and puddle lights.
But, as mentioned, there are also a whole host of cool and clever additions that Volvo has taken the time to consider:
auto headrest fold button
relocatable coat hook on headliner
hook on glovebox door
parking ticket holder on the windscreen
centre console bin has removable bin
little storage pockets next to rear seats
foldable boot floor panels with shopping bag hooks
Drive and Engine
The whole drive experience was one of indulgence that there's almost nothing to say in that regard.
The capable drivetrain, adaptable eight-speed automatic gearbox, and accommodating suspension are all well-balanced together.
Ride comfort may be slightly rigid but not bad considering the huge alloys you're sitting on.
If there's any blemish, if at all, is that the steering is lighter than desirable and doesn't have that weighty feel to it even in sport mode.
Speaking of which, there are four available drive modes and a rather diminutive rocker gear shifter that requires a double tap for selection.
Visibility is brilliant especially through the rear windscreen (this is often condensed due to sloping tailgates), with the exception of over-the-shoulder views at the chunky C-pillar but this is negated by the safety assist features.
Safety
Safety features also strongly in the XC40 keeping you abreast of everything that's happening around the vehicle.
360 camera
parking assist
collision avoidance
blind spot monitor
lane keep assist
adaptive cruise control
pilot assist
rear cross traffic alert
speed sign road sign info
All of these feature in a safety check on the driver info display upon start-up which is pretty neat.
Good Bits
Ride quality
Interior luxury
Attractive inside and out
Refinement
Neat, unique and ingenious features
Technology level
Safety inclusions
Not So Good Bits
Summary
The Volvo XC40 is nothing less than the perfect car.
It's a well-designed, beautiful, hi-tech, elegant yet practical small SUV with a well-balanced drive.
The XC40 should be under serious consideration for those looking for a luxury small SUV that upholds the current standard but possess something a little unique.
What was once the daggy, safe brand of my youth, is now the cool kid on the block.
I just wish I had more time in it.
Facts and Figures: 2018 Volvo XC40 T5 R-Design
Engine: 2.0L four-cylinder turbo petrol producing 185kW/350Nm
Transmission: Eight-speed automatic
Warranty: 3 years/ unlimited km
Safety: Five stars
Origin: Belgium
Price: from $56,740