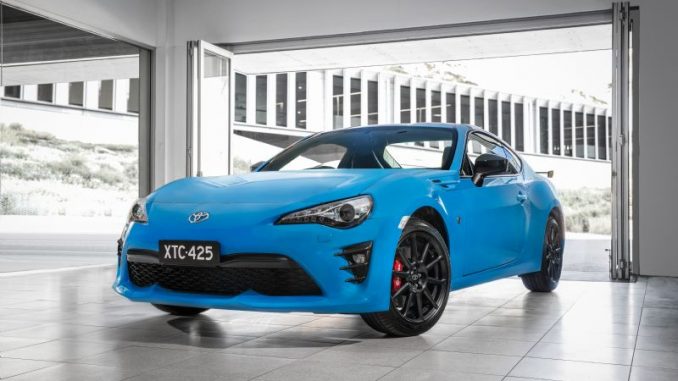 If you think Toyota's sleek little Toyota 86 Coupe is a bit on the wimpy side, get yourself along to a round of the Supercars to see them in full flight and you'll find they ain't slow or wimpy by any stretch.
Toyota pay attention to the race series they sponsor and selectively implement changes to the 86 based on intel from the race cars.
The latest version of the GTS with "performance pack" is a good example.
It has four pot Brembo brakes with 326mm rotors on the front and twin pot Brembos at the rear, sticky 230 tread wear Michelin rubber, firm Sachs dampers, stiffer sway bars, a more aggressive limited slip diff' and smoother aero thanks to a Sooby BRZ style rear wing.
After spending $2200 extra on the performance pack, add another $700 on GTS and you get the striking Apollo Blue paint, roughly the same blue as Ford's Focus RS and Subaru BRZ, and the leather upholstery/black out kit to exterior mirrors, wheels and rear wing.
The performance pack and leather/paint take the 86 GTS to $39,600… still a bargain for what you get.
Exterior
It's the same two door body as before with a slightly different face and rear wing along with that new blue colour to really make this one stand out.
Check out the earlier wing and it looks pretty staid but this one is the business, not too big or small and with neat little winglets each side.
The black body hardware looks good too complementing the black 17-inch alloys with red painted Brembos peeping out from behind.
It rides low and has a low front with a deep bumper and splitter that can be an issue on driveways.
I really like the classic coupe silhouette with a long, low nose, fastback roof and stubby rear end.
Interior
Inside is pretty much standard Toyota fare with a central info screen and obligatory driver's cockpit complete with round dials and closely positioned controls and switches.
The test car's optional leather upholstery was attractive and comfy while the mixed media inside including suede create a sporty look without going over-the-top "race car/carbon fibre" in appearance.
Rear seat room is OK for kids, small adults at a stretch while access is pretty good through the two wide doors.
I really like the upright steering wheel position and close proximity gear change and hand brake.
There isn't a lot of room inside but enough for people over 183cm to get comfortable in the front pews.
Features
Toyota dribbles in more features with each successive 86 upgrade. This one gets satnav across the board along with LED headlights, decent audio and some more advanced technology like rear view camera but no advanced driver assist stuff to speak of.
Drive and Engine
Power comes from a horizontally opposed, 2.0-litre, petrol four cylinder good for 152kW and 212Nm of torque. Redline is up around 6500rpm but it's better to change before that to slot into the engine's stronger torque lower in the rev range.
It's a naturally aspirated rear wheel drive car with surprisingly neutral handling that can be provoked into mild oversteer if you try hard.
The whole car feels beautifully balanced on the road offering sharp steering, strong brakes and a firm, sometimes jiggly ride.
I pushed the 86 fairly hard and the Michelin tyres held on well possibly because they are a 230 tread wear soft compound.
With dual injection (into the inlet port and also into the combustion chamber) the 86 has two torque peaks at around 2000rpm and another at around 4000rpm.
You still have to rev it to make it go or change back a cog and give it the "welly."
Driving satisfaction is high despite the relatively low engine output. You can really chuck the 86 around and it responds faithfully and quickly to any input.
What a fun car to drive but the exhaust note, artificially augmented under the bonnet, is uninspiring.
Safety
Gets a five star ANCAP rating but minimal advanced driver assist technology. The thing to bear in mind is the 86 has reflexes sharp enough to avoid a crash in the first place unlike a lot of doughy lesser cars that would simply pile in….
Good Bits
Sharp dynamics
Impressive grip
Slick gear change
Strong brakes
Looks sweet
Stunning new colour (Apollo Blue)
Performance pack good value
Now (finally ) gets a 5 year/unlimited km warranty
Not So Good Bits
Lacks power
Brake pads not up to track driving
Can become jiggly on roughish roads
Wheezing exhaust note
Summary
I totally understand the appeal of the Toyota 86. It's a real driver's car that will reward anyone taking the wheel.
Put it on the track and it's even better except for the lack of get-go.
One of the last rear wheel drive sports cars going these days. Beats a hot hatch for drive feel every day.
Facts and Figures: 2019 Toyota 86 GTS Performance Pack
Engine: 2.0L four-cylinder petrol producing 152kW/212Nm
Transmission: Six-speed manual
Warranty: 5 years/ unlimited km
Safety: Five stars
Origin: Japan
Price: from $36,640